When to Start Planning A Wedding After Engagement?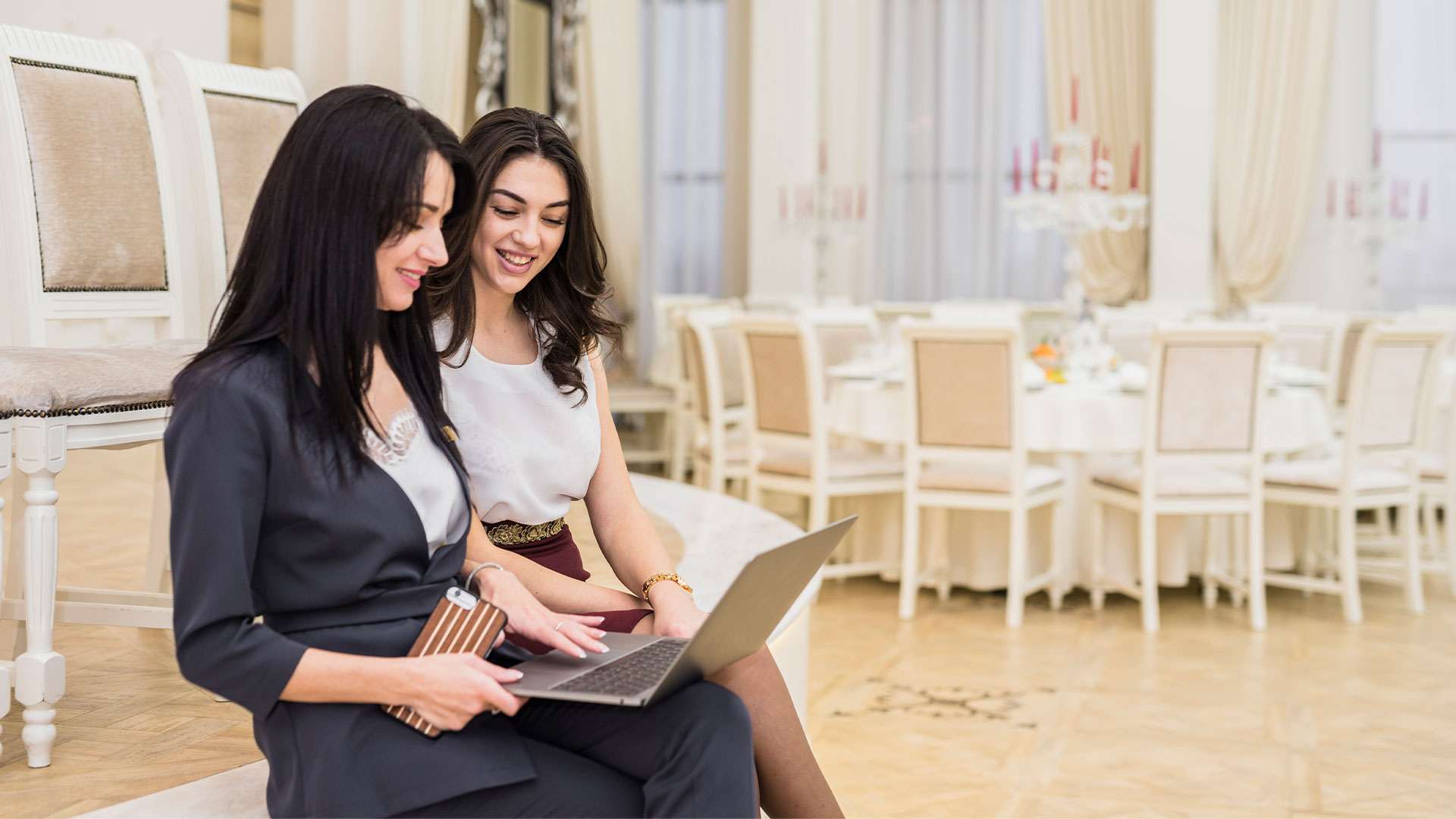 When to start planning a wedding?
Most people say you should start making plans for your wedding a year before the big day. But if you only want to have a short engagement, plans can be made much faster. On average, 13 months after the couple's engagement is enough time to complete a successful wedding planning checklist. If you just got engaged, it may be extremely tempting to start planning your wedding right away.
The engaged couple would indeed love to enjoy the "just engaged" feeling but depending upon the time gap between the engagement and the wedding, one can decide when to start planning their wedding. Let us look at it in this article: depending on the availability of time since your engagement, when would be an appropriate time for you to start making wedding plans?
When to start planning a wedding?
Once you have got engaged and decided to get married, many things will pop up in your like when should you start planning your wedding, wedding date, season, venue (hometown or abroad), costumes and themes for the big day, travel arrangements, and so on. No matter how big or small your wedding is going to be, planning it can be a stressful experience. You'll worry about every little thing and work hard on the guest list. You may feel like you need to start planning your wedding right away.
After getting engaged should you start planning the wedding? Even though it is a good idea to start planning your wedding as soon as the ring is given, there is one crucial discussion that must take place first. Talk to your fiancé about how long you want to be engaged. The overall length of the engagement does affect your planning schedule. You can hire a fully bespoke wedding service provider for completing all events according to your plan.
You do not even need to decide the exact date of your wedding immediately after your engagement, but it's a good idea to set a time frame right away. If you want a luxury wedding, you can plan a destination wedding in Dubai. Depending on the points of discussion, available time, and circumstances, you could end up with any one of the following situations. In each case, the required elements of wedding planning would vary, and it would be easy for you to decide when to start planning a wedding.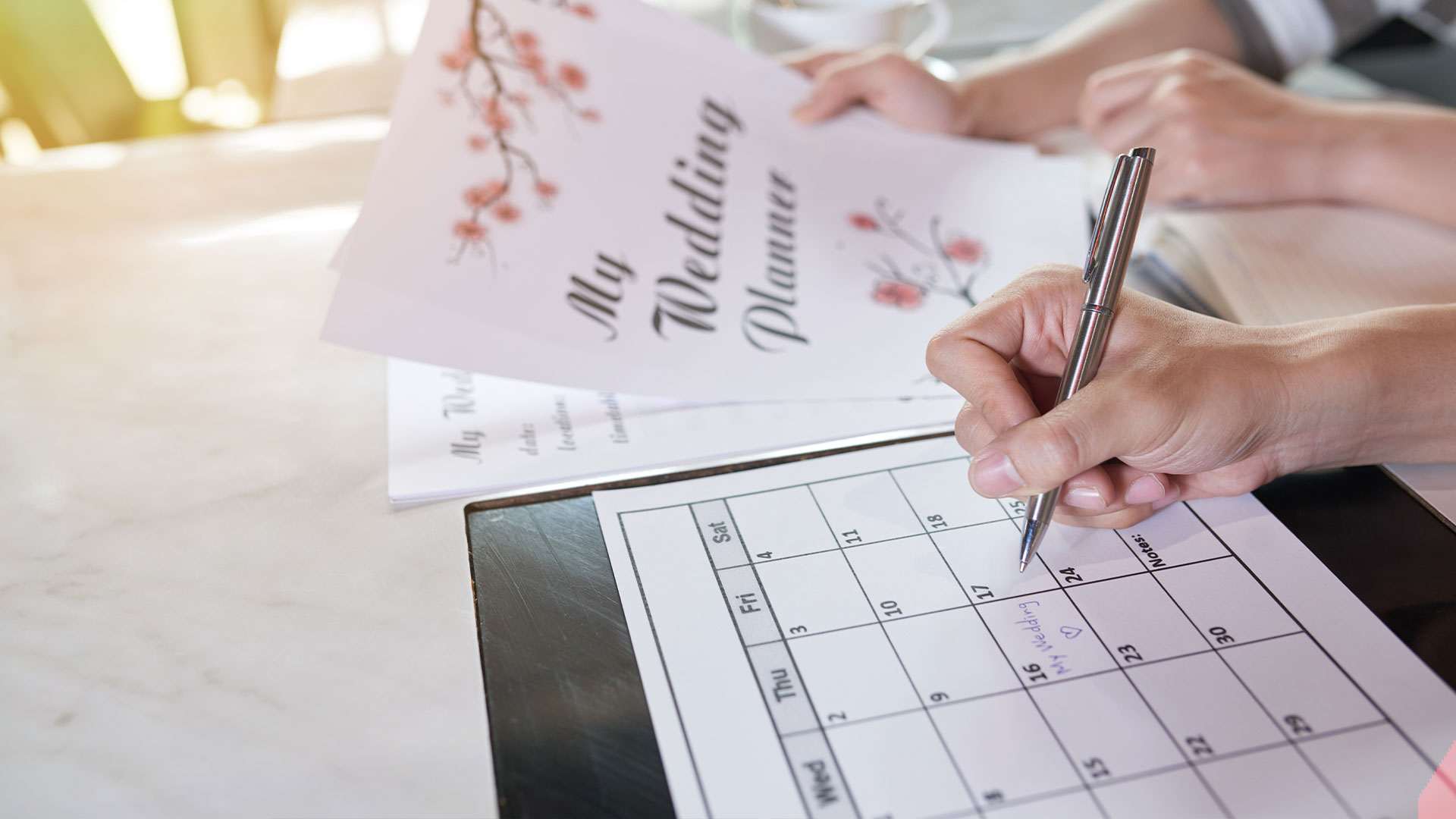 Situation 1:      There may be more than 18 months until the wedding.
Situation 2:      There may be at least 12 months or less than 18 months until the wedding.
Situation 3:      There may be exactly 1 year until the wedding.
Situation 4:      There may be 6 months until the wedding.
Situation 5:      There may be at least 3 months or less than 3 months until the wedding.
Situation 1: There may be more than 18 months until the wedding:
In this scenario of a long engagement period, when to start planning a wedding? There is no reason to rush into planning. It gives you more time and allows you to plan your wedding in a more relaxed manner. If it is 2 years too long to plan a wedding. But relish the period of being "just engaged," a once-in-a-lifetime experience, for at least a month, hosting an engagement party without any pressure to begin wedding plans. A lengthy engagement may represent a significant luxury. You can organize your wedding with a relaxed demeanor and less anxiety.
You may get an estimate of how much money you can spend on the wedding by compiling a guest list, which can also help with other preliminary preparation tasks. Deciding the style of the wedding, whether vintage, classic, modern, rustic, or glamorous, is the next step, which would help you decide the type of venue, the floral arrangements, the type of songs to be played, the cake, and all the related things you want in your wedding.
Since you have enough time, you can plan very well for every small item that is to be added to the checklist. If it is more than a year away, you will have a wide range of venues and service providers to choose from. Popular locations often reach capacity within a year, so it is better to book in advance.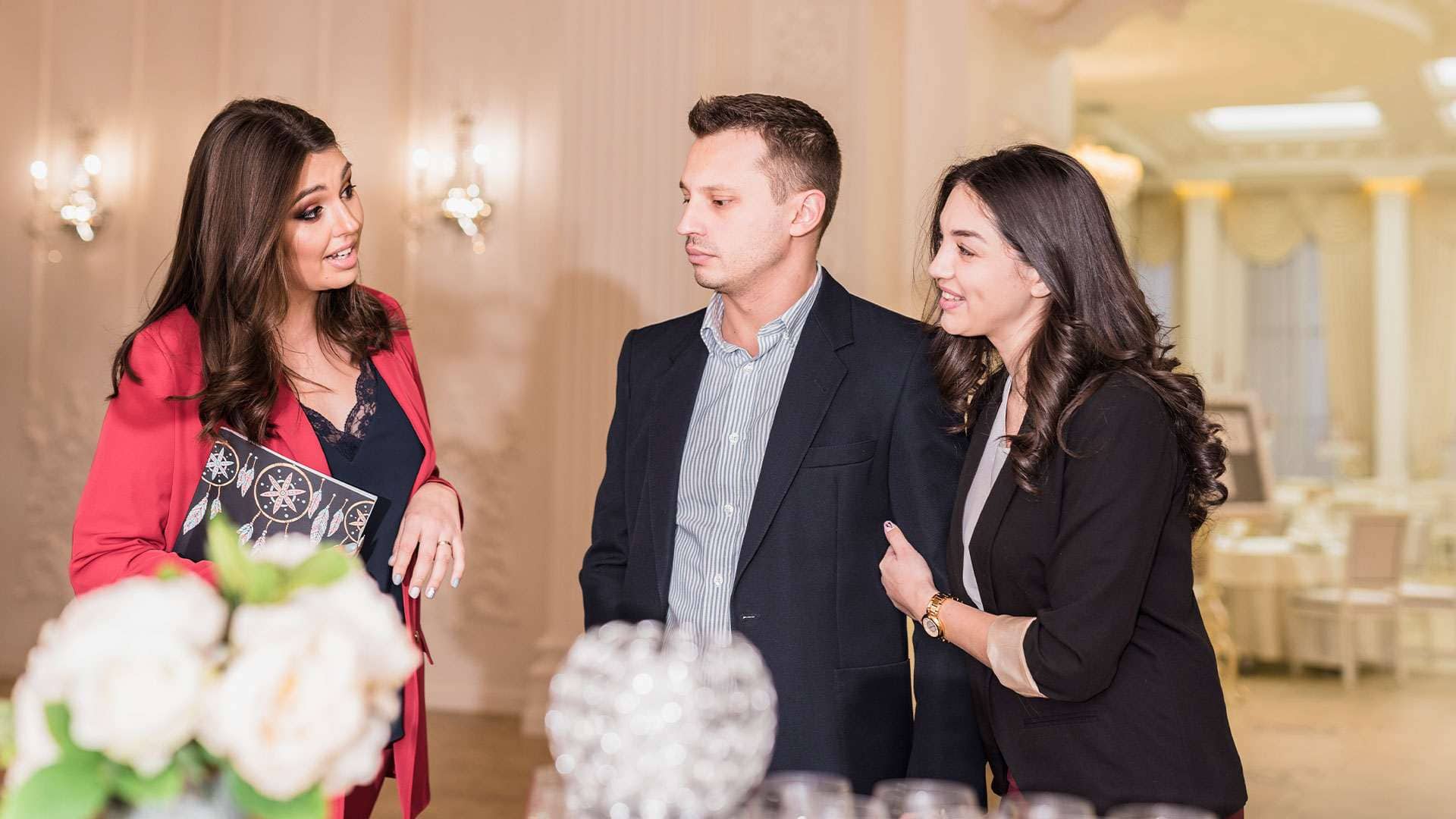 Destination wedding hotspots are frequently more competitive than other locales. Finding a location should be the first item on the agenda since it will help to secure a date and ensure that all the amenities are available for the day. You can also start looking for a wedding dress now. With a year to go, you have plenty of time to choose the ideal one and to save a little more if you find "the best one" that you can afford. Even if you want to make some changes in your size, you have time to go for some workouts and get yourself into the desired shape.
A fitness and health plan must be adopted anytime from 12 to 6 months before the wedding, based on your fitness aspirations. A strategic diet, workout, and mindful plan will not only make you look great but will also make you psychologically and physically fit throughout the planning process. You can hire a wedding photographer well in advance. Most of the time, the best professional wedding photographers will be in high demand, just like the venue, and these will be among the most important photos you'll ever have taken.
Situation 2: There may be at least 12 months or less than 18 months until the wedding:
Under this scenario where there is a 12 to 18 months period away when to start planning a wedding? The average engagement lasts 13 months, which is considered a great period if you're able to make it work. It is suggested that you wait just around three weeks before starting to plan your wedding to completely enjoy your engagement period, but not too much time so that you don't lose your momentum. Take things to step by step when you're prepared to start planning, and it's not a great idea to attempt to plan a wedding without a wedding planner.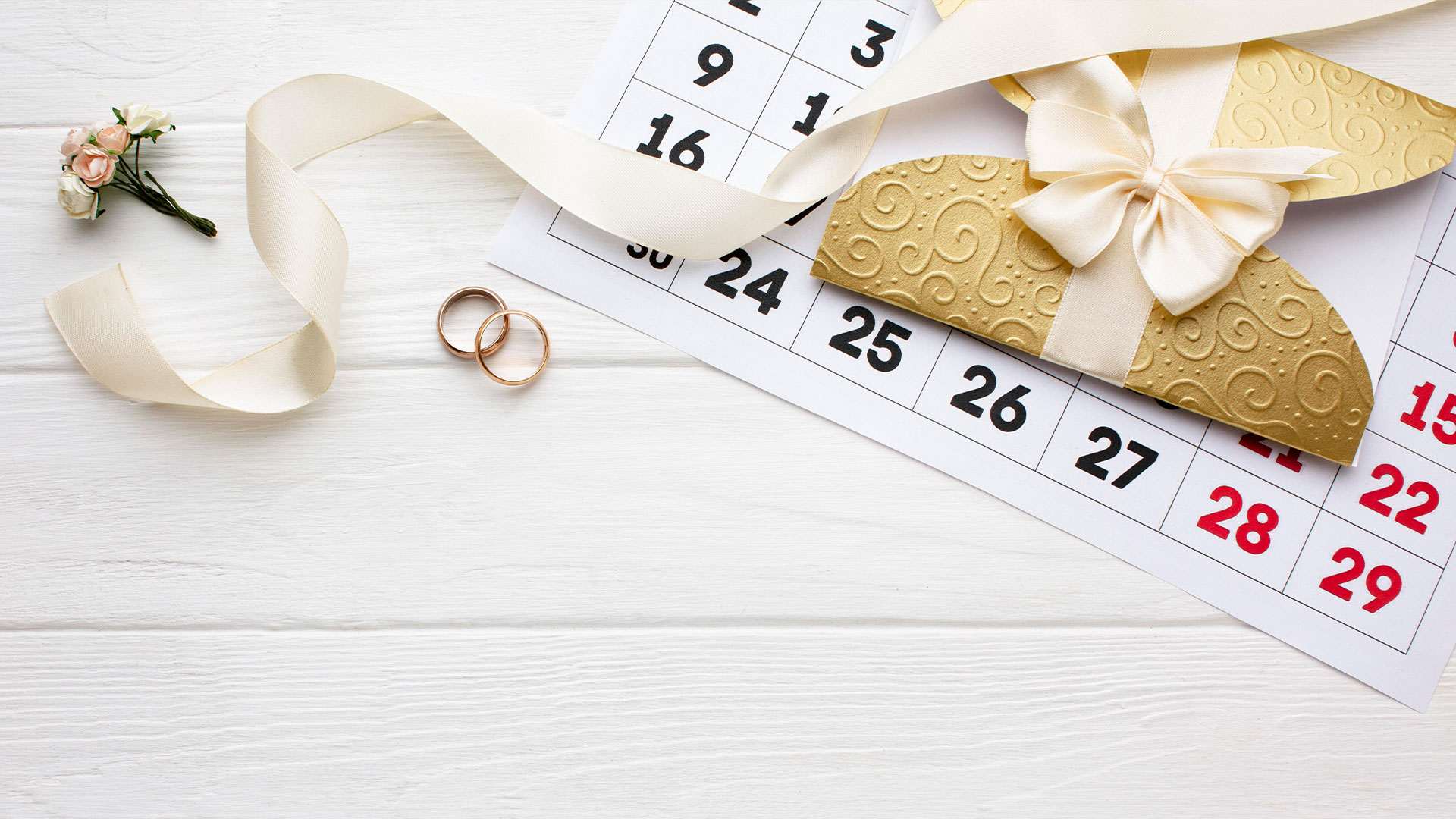 Start by making a budget for the wedding and figuring out how many people you think will be at your wedding. Then, you can search for venues at your own pace and intensity. Depending on where you're getting married, not many places will be booked up yet, so you'll probably have your pick of date and time, venues, and caterers.
You've found a place to hold the event, and the big things in terms of organizing and getting ready are well underway. After booking the venue and having decided on the dates, without missing out on any of the important people in your life, prepare a list for sending save-the-date cards. The earlier you send them out, the more likely it is that the most important people in your life will be able to come.
You want to get that date on their calendars before they commit to any other appointments on the same day, which would make it easy for them to plan accordingly. Check whether catering is included when choosing a venue. If it doesn't, contact the leading caterers in the area and choose one for your special day!
A wedding is deemed a tremendous success if the cuisine is excellent. You can experiment with your meal selections by offering a variety of cuisines. However, if you choose to err on the side of caution, you can always opt for the conventional options.
In the first few months of planning your wedding, you can decide what kind of amusement you desire for the wedding day. If you've already booked the wedding venue, you'll have a good idea of what kind of fun and entertainment you can bring in. Whether it's a band or a dance program, close friends and family members often throw surprise dance events these days. If you wish to begin with the bride and groom, then the groom dances with the bride's father after the couple's performance. He could also keep dancing with the bride's mother.
The mother and father of the bride then dance together. Finally, surprise guests from the crowd will join them in dancing or something else, like singing songs by friends and relatives. If you are planning a traditional Indian wedding, consider events such as Sangeet, Mehandi, and Pehra. Next, when should wedding rings be bought? There is no better time than now. Even though you won't have to wait long to have them sized, the sooner you and your partner find the perfect wedding rings for you both, the sooner you can check off that very important item in your simple wedding planning checklist.
Situation 3 – There may be exactly 1 year until the wedding: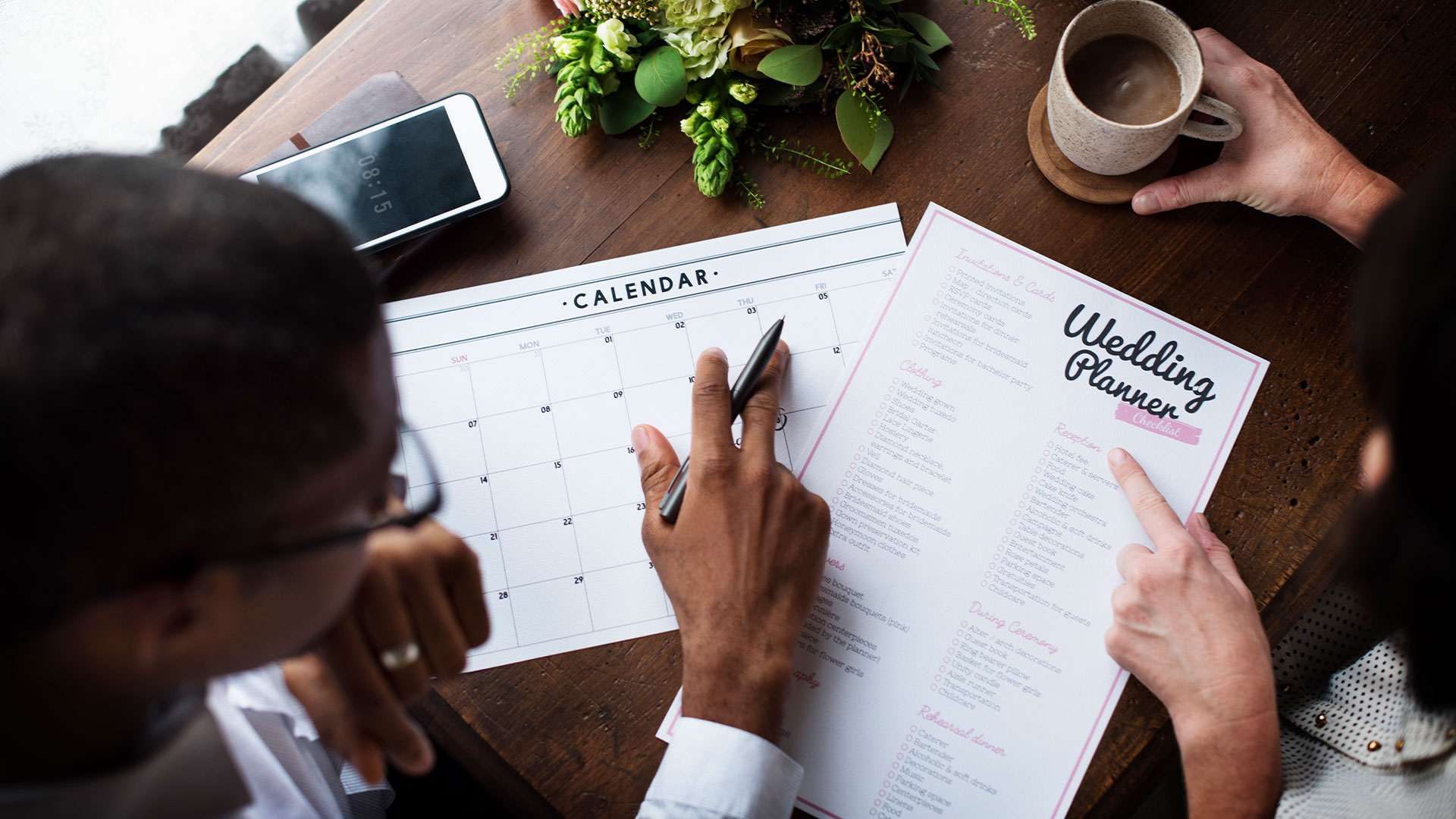 When to start planning a wedding in case of 1 year till wedding? There are many reasons why you and your fiancé might want to wait at least a year. You may have gotten engaged at the end of the year and have always wanted a fall wedding. Weddings in the fall are gorgeous. The leaves are falling off the trees, and the weather is becoming a little cooler. Late September gives you a lot of choices, especially if you want to get married outside.
So, you do not want to put it on hold for so long and can make use of the weather conditions by planning accordingly to get married. If you want to switch from "just engaged" to "just married" in a year, it is suggested that you wait two weeks before you start planning your wedding.
Once you are ready, remember that this marriage is solely for you both and that the honeymoon trip plays a key role in that. Based on what you want to do on your honeymoon, at least ten months in advance is about right to make sure you get the reservation you want. If you're going overseas, it's recommended that you treat the reservation like a vacation, which is probably what most people would do so far in advance.
Regarding the wedding day itself, it's a good idea to book the cake and start contacting companies that rent out decorations. These companies will be in charge of setting up the place where the ceremony will take place and the place where the reception will be held.
Situation 4 – There may be 6 months until the wedding:
Under this scenario where there is a 6-month period away when to start planning a wedding? Even if you do nothing for the first week or so after getting engaged, you still have time to plan a wedding in 6 months. Yes, this seems like a lot to do in a brief period, but don't hesitate to delegate your fiancé's and both of your family's and friends' responsibilities.
They will be happy to help you. Always remember that you are not alone and have ample time to execute your wedding plans. Your catering company can help you decide what kinds of food to serve. Choose something that fits your wedding's style and theme. That may be great starting from hamburgers and hot dogs to chicken and steak for traditional marriage.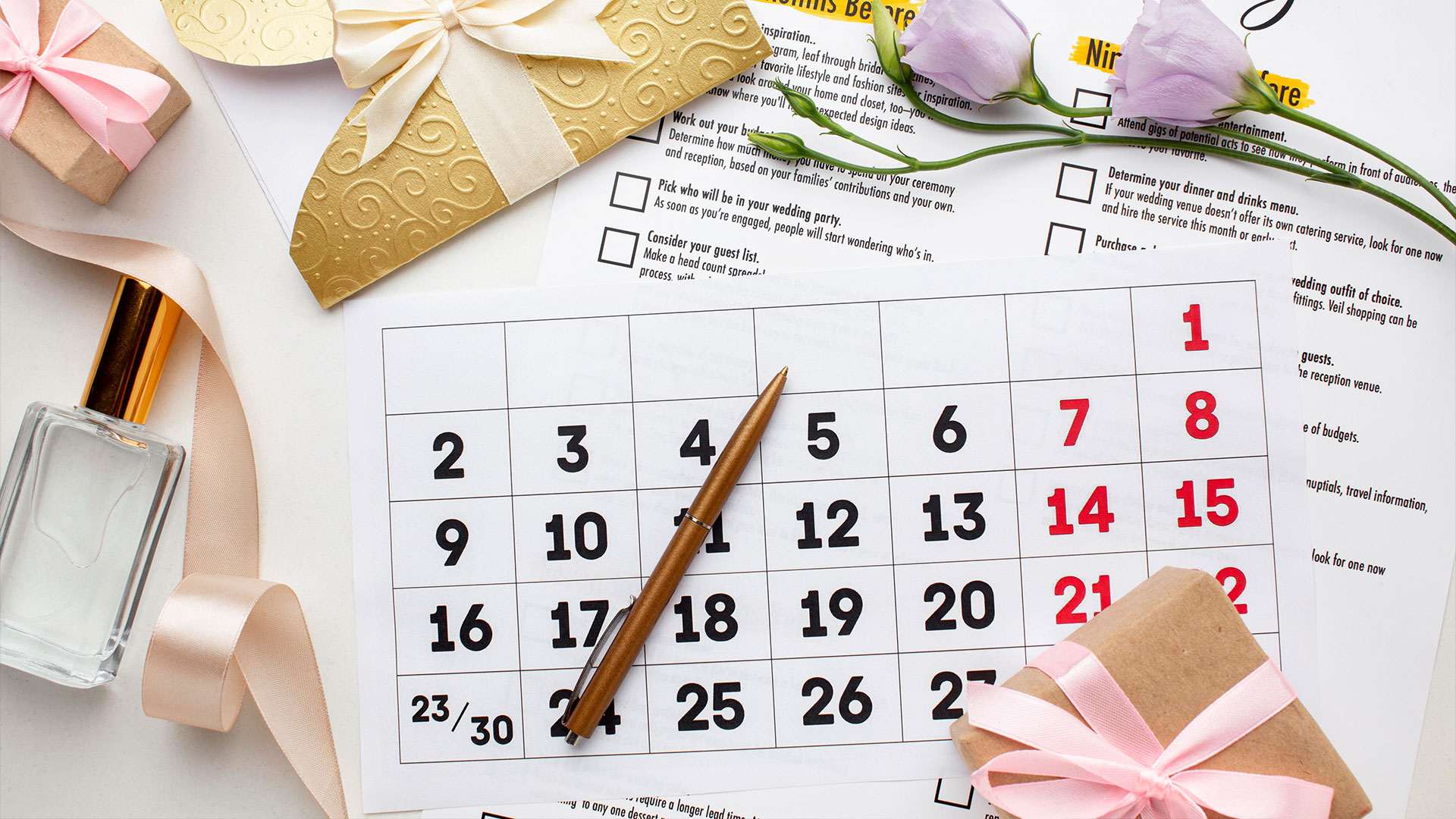 Another important thing to look at when you have just six months before your wedding is the legal formalities that are related to the wedding. If you are planning a destination wedding, then check out the legal formalities of the destination and plan accordingly. The next thing is getting your visa and passport ready. Booking flight tickets well in advance can reduce the burden on your budget.
Once you've chosen your wedding colors, the dresses for your bridesmaids, and the location, you can figure out which one you want your fellas to wear. You only need to plan for about 4 months. Plan out how things will happen on your wedding day. So, when the bride and her attendants should get there? When is everyone going to get their makeup and hair done? When will the wedding photos be taken? If you plan to fly right away after the wedding, start making reservations for your flight, hotel, and any other things you want to do.
Even if you may not have your choice of contractors, there's no reason to rush into a quick plan and stress yourself right away. You won't be behind on wedding planning if you take a week or so to relax and enjoy the "just engaged" glow. You still have time.
Situation 5 – There may be at least 3 months or less than 3 months until the wedding:
Under the circumstances, if there are only 3 months or less than 3 months away when to start planning a wedding? You might not want to put off planning for too long. But keep in mind that if you wanted to, in a week you could plan a wedding in 3 months. Take a few days to settle down before plunging into wedding planning. Plan the look and feel of things like invitations, guest gifts, programs, place cards, and menus that will be printed for your event. Also, make sure you've taken care of all the little details, like ceremony program helpers, meetings with your caterers, wedding party gifts, wedding hoardings, and any other items you might want to include.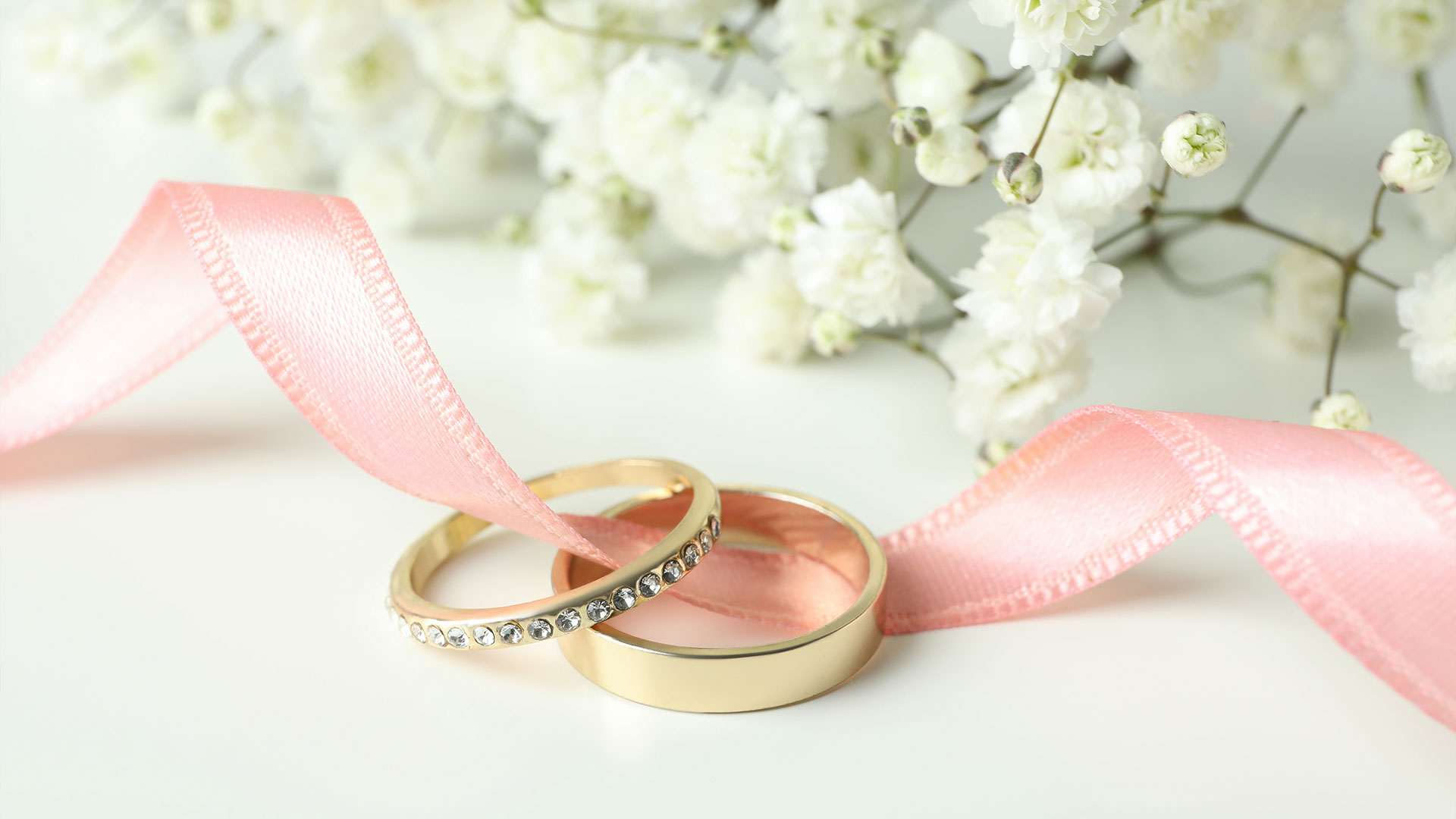 You can try on your wedding costumes and make any minor alterations if needed. It is always recommended that you take a photograph while trying on your special day's outfit to see how you look in it. This would help you to clarify that what you feel and how you look like are the same wearing the big day's costumes.
In all the 5 situations discussed above, a few basic things are common that need to be followed and kept in mind to make decisions relatively quickly, and they are as follows:
Pick a wedding date.
Fix your budget.
Prepare a complete guest list.
Keep in touch with a wedding planner.
Examine the wedding location and caterers. If necessary, book hotel rooms in advance based on your potential out-of-town guest list.
If necessary, discuss the bachelor and/or bachelorette wedding parties with your fiancé, friends, and relatives.
Book other service providers, such as:

Videographers
Photographers
Florists & Musicians for Ceremonies
Send the invitations or save-the-date cards as early as possible to give your valuable guests a heads-up.
For the wedding day, book your hairstylist, makeup artist, and transportation facilities for them if required.
You can create a website and post all the details regarding the date, venue, theme, and every other detail you want your friends and relatives to know about your wedding so that it is easy for them to plan accordingly.
You might have been planning for the wedding for the last 18 months or just the last 3 or 4 months. Regardless, there are a few things you should look into in the weeks leading up to the wedding.
Two to three weeks before the wedding
The last few weeks before the wedding should be spent on grooming. Men should cut their hair at least two weeks earlier. Women should also trim and color their hair two weeks prior, not one. This also applies to sunbathing, brow waxing, and facials. Because it is impossible to predict how your body will react to these procedures, it is best to have them done at least 10 days before the wedding. If you have not hired a wedding planner, it is also a good idea to appoint a liaison for vendors.
This individual can answer queries from vendors and hold checks and gratuities for each. If necessary, you can also make last-minute changes to table layouts and room decorations at this time. Typically, a wedding rehearsal usually occurs around this time. This is essential if you're being married in a church, but most venues will also require a dry run of the ceremony. 
A week before the wedding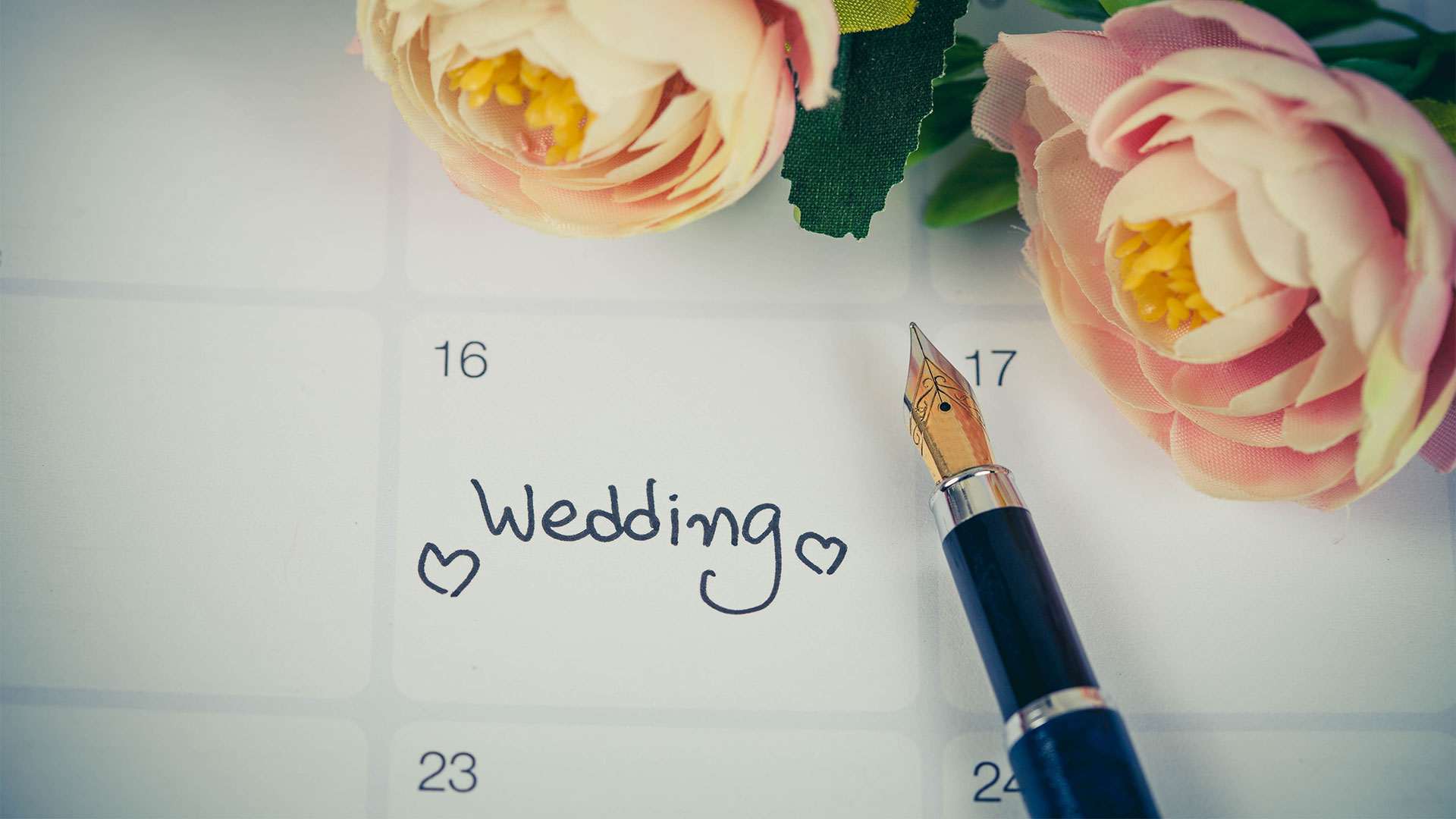 Check everyone got their dresses. Keep your maid of honor, bridesmaids, and groomsmen supplied with all the items they need, like shoes, ties, outfits, and so on. Do your packing for your honeymoon. Have pre-wedding fun with your besties. Celebrate the completion of the planning process and begin the fun!
FAQs About When to Start Planning A Wedding
Here are some frequently asked questions and answers about when to start planning a wedding after engagement:
Q1.  What is a Wedding Checklist?
Ans.     A wedding checklist is a list to be prepared while you start planning your wedding. Right from the date to the venue, every small item must be included in the checklist so that nothing is left undone or missing on wedding occasions. A well-made checklist would help us make sure that all the parts of the wedding went as planned.
Q2.  What if I only have a few months to plan a wedding?
Ans.     If you only have a few months to plan your wedding, first finish the legal formalities, if any, as per the requirements. You can do amazing things in three months if you have a wedding planner and a big budget. But if you're doing it yourself or on a limited budget, try to keep your arrangements as simple as feasible. An all-inclusive package from a hotel or wedding venue is the easiest way to plan a wedding. The more you customize your day or add extras, the more time, money, and organization it takes.
Q3.  Is 6 Months Enough to Plan a Wedding?
Ans.     Planning a wedding in six months can be done very well. You can prepare a budget and get your venue booked, and other suppliers can also be booked. Legal formalities and honeymoon arrangements can also be made. But you need a plan and should make use of your time productively.
Q4.  How to Plan a Simple Wedding in 3 Months?
Ans.     Even in three months, a simple wedding can be planned very well. Decide on the budget and finish the legal formalities. The other arrangements, like venue, caterers, photographers, and stylists, may not be available as per your desire, since most reputable professionals are booked in advance. But you can choose the best from the available.
Q5.   Where Do You Begin When Planning a Wedding?
Ans.     The first step in planning a wedding is figuring out the budget. Next, choose the date, book the venue, and make a list of guests. Hiring a wedding coordinator would lead to additional arrangements.
Conclusion
When to start planning a wedding, even if you have more than a year or a few months left, some criteria will remain the same. However, the options available will differ depending on the time of availability. But with a complete wedding planning checklist and a definite budget, the best wedding plans can be done and executed; only smart usage of resources is required.