How to Plan a Destination Wedding in Dubai: The Expert Guide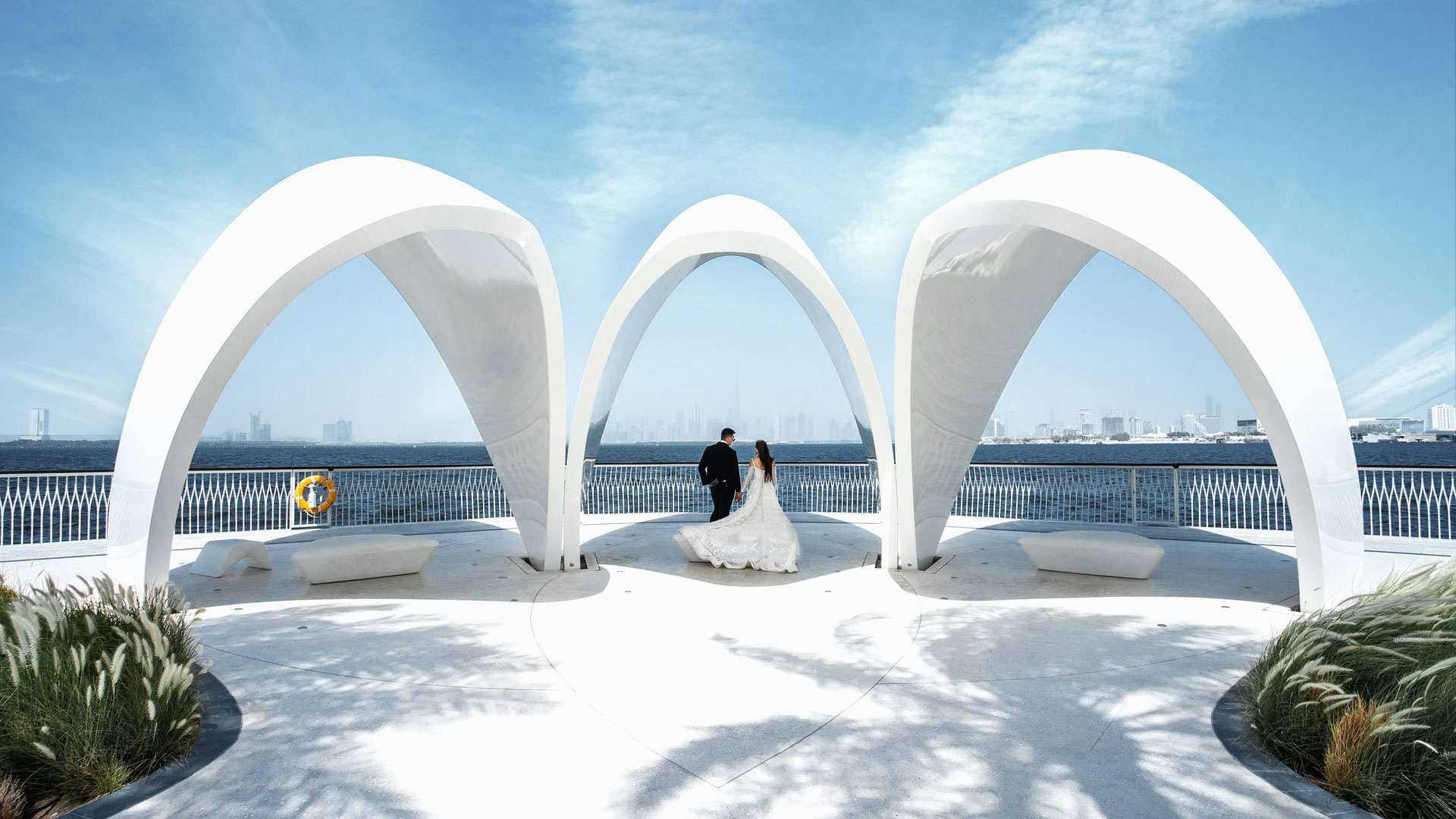 How to plan a destination wedding in Dubai? This article talks about all the important parts and details that will make your special event beautiful, memorable, stress-free, and fun. When planning a destination wedding, especially in a beautiful country like Dubai, there are many options, such as affordable wedding venues, wedding shopping, wedding planners, and so on. You need to know a lot about the facilities and requirements, how much would the destination wedding in Dubai cost, and especially how to plan the dates for the right season.
How to plan a destination wedding in Dubai?
After getting engaged, you need to know when to start planning a wedding. Destination weddings require even more preparation than traditional weddings. While it may be more difficult, the rewards of having your ideal wedding in a special location are well worth the effort.
Planning well in advance would help to get the most out of the occasion. Hiring a wedding planner, choosing the venue, making the wedding menu, choosing the caterers, knowing the legal requirements for the wedding, obtaining a visa, traveling, and figuring out the cost are some important things to think about when planning a wedding there. Additionally, you need to plan wedding packing like your personal items. Find our perfect guide on how to pack for destination wedding.
Hiring a wedding planner:
A wedding is a once-in-a-lifetime occasion, and every couple looks forward to it with great excitement. The wedding day is the most important day that couples anticipate together yet planning and managing it is a tremendous undertaking. The good news is that many successful wedding planners in Dubai know how to plan a destination wedding in Dubai, will take care of every detail for the big day, and will do their best to make sure everyone has a fun time.
Hiring a local wedding planner is the most cost-effective method for arranging affordable wedding venues in Dubai. Experienced wedding planners are familiar with the top local providers and locations.
As a result of their local connections, they can arrange all facilities at a much-reduced rate. For a wedding with a limited number of attendees, planning within short notice, say 3 months, is possible.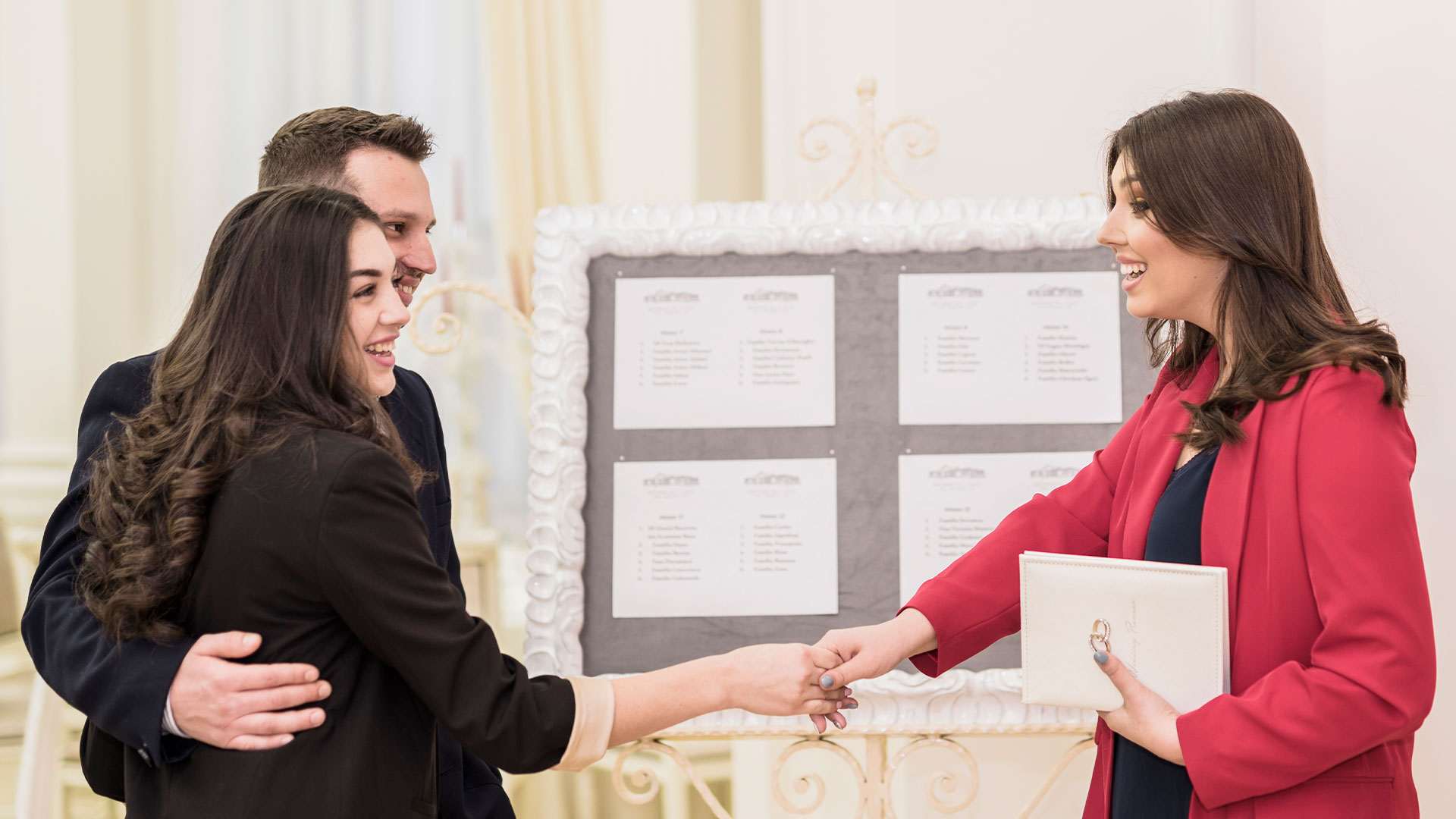 But when the numbers are higher, it's better to contact the wedding planner well in advance. A local wedding planner also knows where it is acceptable to save money and where it is not. As native speakers of Dubai's language and familiar with local customs and traditions, wedding planners can accommodate your needs.
In addition, hiring a wedding planner will save you the arduous effort of coordinating every single detail overseas via phone calls and online meetings. The specialist we've hired would handle it personally on our behalf.
The best thing is that we may seek the counsel of the experienced on all crucial wedding-related matters. Numerous wedding planners are in Dubai and are engaged in some of the most spectacular weddings held in Dubai's opulent resorts. Depending on the couple's needs and desired level of participation, diverse options are offered. You may readily explore Dubai wedding planners by searching for them online and arranging introductory appointments.
Decide the budget:
Budgeting affordably for your wedding would aid the planners in selecting and executing the appropriate materials. Before creating a budget, one should determine the wedding's essentials and indulgences and then prioritize the necessities. Afterward, if the budget allows, the add-ons can be included. When calculating the budget, it is important to remember that whatever you provide your visitors with must be executed flawlessly. The guest will only notice imperfections, not the absence of amenities.
It is quite common to deviate from the target while organizing a destination wedding; therefore, it is essential to create budgets together with your wedding planner to get things done properly. Consider all the additional expenses, such as airfare, additional packing, transportation, additional days of accommodation, any local trip in Dubai, and other things you would like to do beyond the wedding location.
Some of the cost-effective ideas included booking venues at least a year in advance, bulk booking of rooms, and organizing all events in one location. Budget weddings with as less as $25000 to an expensive Indian wedding in Dubai cost about $300000 are held at Dubai.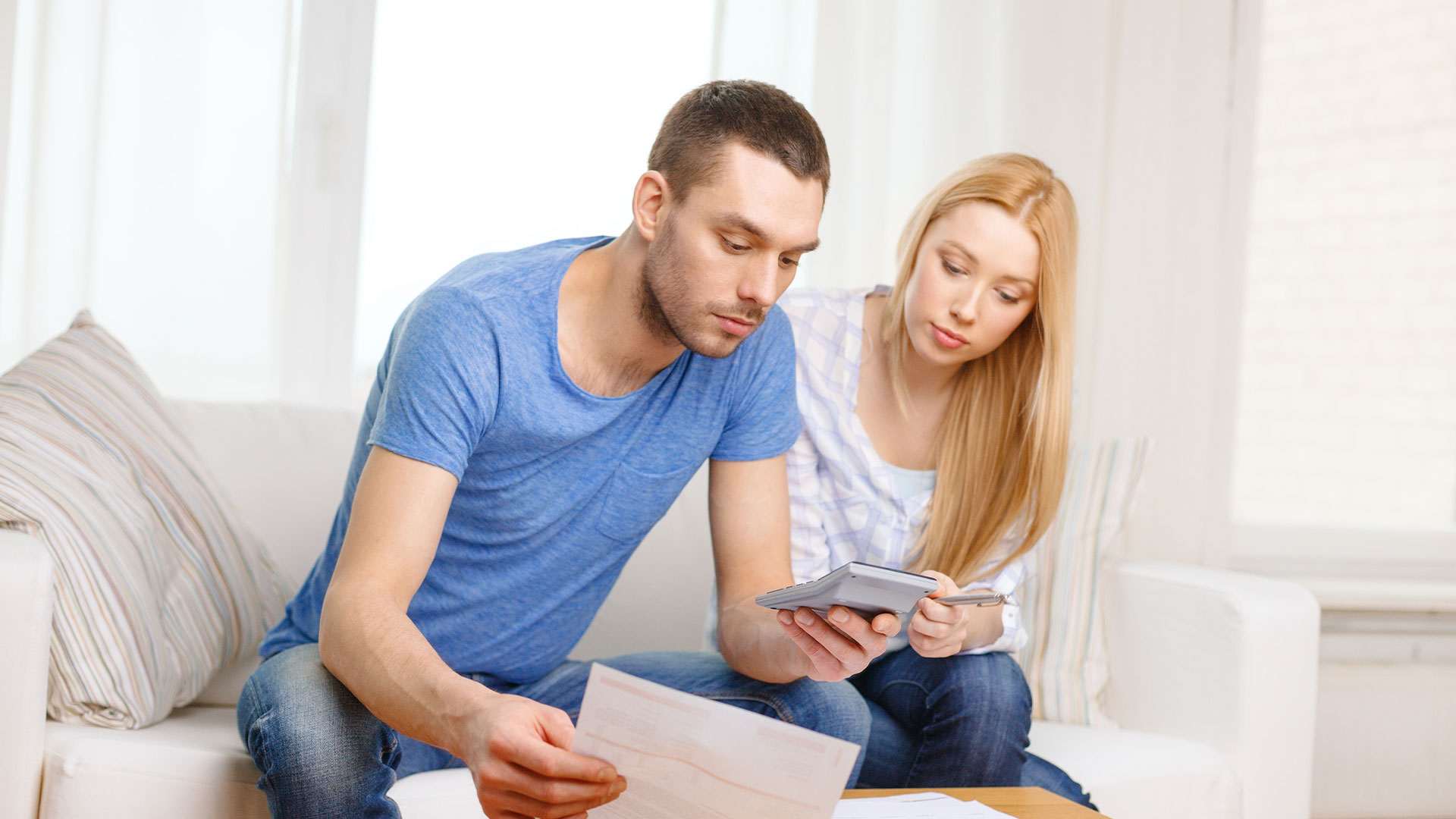 Once the date and location have been selected, send out the invitations early. This allows them to find the best rates on flights and lodging. Economically and psychologically, it would be more beneficial to provide them with knowledge about the dates at least six to eight months in advance.
Legal formalities:
Destination weddings necessitate documentation. For a legal wedding in the Emirates, at least one of the couples getting married must live there. Islamic weddings follow a certain process and have formalities. Non-Islamic marriages have different steps and formalities depending on the couple's country of origin. The Dubai Court does not allow non-Muslim weddings. But they can only get married in their embassy, church, temple, etc. if they are allowed to. The rules for getting married in Dubai for foreigners are different.
They get married in their embassies, even if one of the partners is from a different country. In the UAE, documentation requires a minimum of one month. Before doing this, you may require approval from your home country, which can take many months. It is always better to get the advice of a marriage lawyer in Dubai if you want to know the exact judicial procedures for getting legally married in Dubai.
The alternative option, which is favored by tourists, is a symbolic ceremony. It is advised that you become legally married before hosting the wedding so that your wedding day will be far less hectic as a result. Furthermore, public shows of love and unmarried sexual contact are forbidden; yet, because Dubai relies on tourism, many may not take it as a big deal as long as you are courteous. However, to be on the safe side, it is better to get legally married before the celebrated destination wedding.
Destinations:
A destination wedding in Dubai guarantees that every couple will find the perfect spot to celebrate their love and the occasion, no matter the size of the ceremony. Numerous Dubai wedding venues make the city an ideal location for destination weddings. It would be more advantageous to choose the venue after determining the number of visitors so that the location does not end up being too small or too large for the anticipated number of attendees.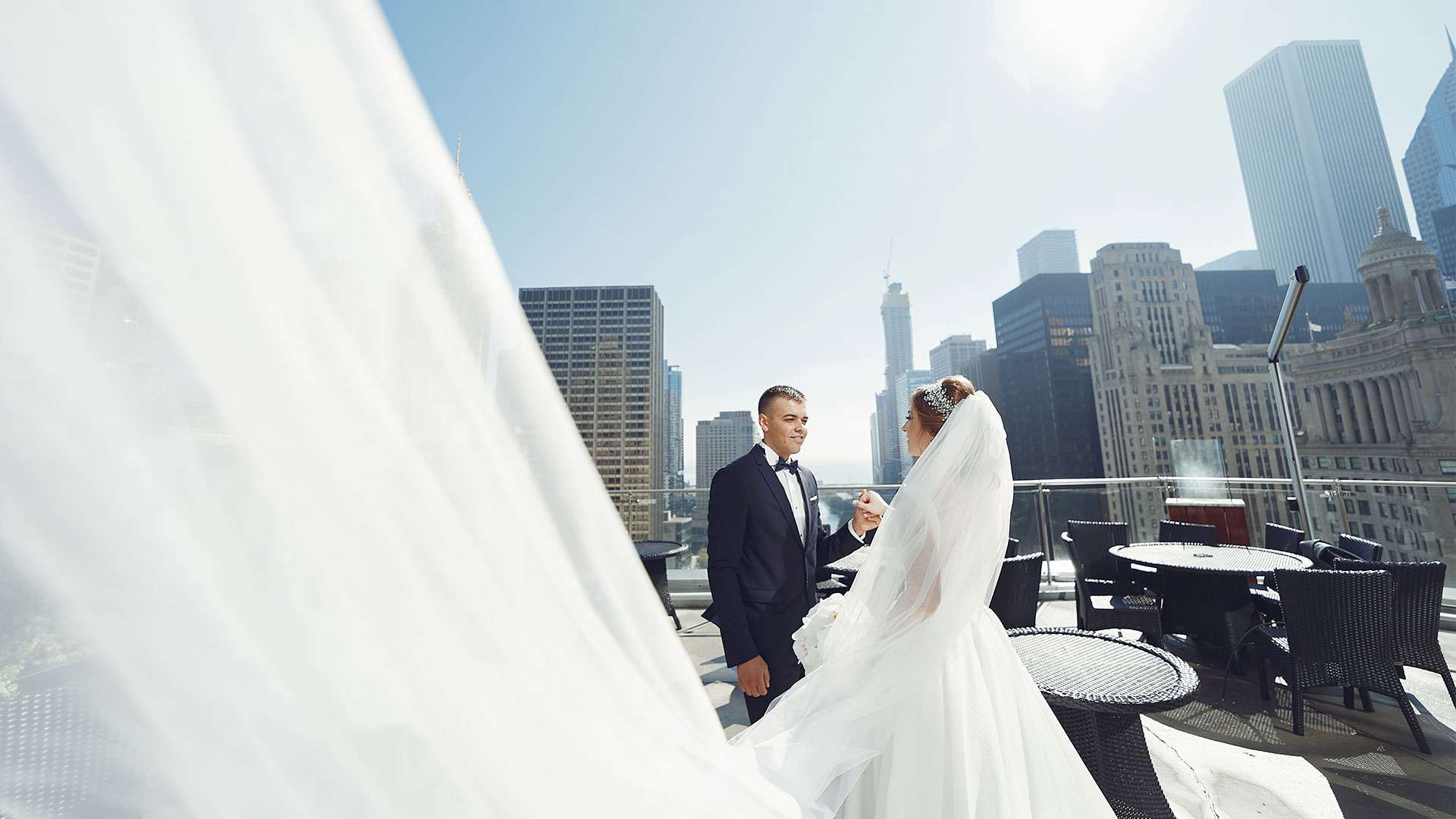 If you wish to have an Indian wedding in Dubai with about 100 to 300 guests, then Raffles is the best venue. This hotel provides the space for all Indian wedding events like Sangeeth, Mehandi, Pheras, and so on. The added advantage is that the hotel provides a customized menu for its guests. If you wish to have an outdoor wedding ambiance, Fairmont the Palm would be an excellent choice. If you prefer a small wedding in Dubai, Royal Mirage Resort would be your favorite, as this resort provides several outdoor venues for a limited crowd of up to 300 members.
The Burj Khalifa is one of Dubai's most famous landmarks. If you prefer to have this landmark as your backdrop during your wedding occasion, you can get your destination at the JW Marriott Marquis Hotel, which is the perfect reflection of Dubai City, and on its terrace, you could have the tallest structure as the backdrop. The hotel can hold up to 1,000 guests. Burj Al Arab Jumeirah is the best option for a lavish seven-star hotel for your dream wedding. On the other hand, if you wish to have a royal wedding destination in Dubai with a guest capacity as small as 30 to 2,000, Emirates Palace would be a perfect choice.
The Ritz-Carlton in Dubai provides small Dubai wedding packages at an affordable cost that can accommodate 100 to 350 guests. For all kinds of wedding themes, like summer weddings, Arabic weddings, and Indian weddings, Atlantis the Palm would be the best destination. This luxurious resort is not only Dubai's biggest tourist attraction but also serves as the best beachside resort for a perfect small beach wedding in Dubai.
If you wish to have a desert wedding in Dubai, there are some wonderful resorts. The DoubleTree by Hilton Resort & Spa on Marjan Island is one of a kind in that it offers both indoor and outdoor venues: the indoor Jasmine Ballroom, which can accommodate up to 350 people; the meadow and beach areas outside with stunning views of the ocean; or an Arabian desert dune experience.
Al Maha Desert Resort & Spa, Bab Al Shams Desert Resort & Spa, Platinum Heritage, and Al Sahra Desert Resort are some of the resorts that offer desert wedding facilities in Dubai. While deciding on the venue, there are some other significant factors to consider too. You should first think about how easy it is to get there, how many flights go there, how different the time zones are if you need a visa, what the weather is like, and if the venue is available. Before a week of wedding festivities, you don't want to deal with many transits, luggage transfers, and flights.
Selecting the season: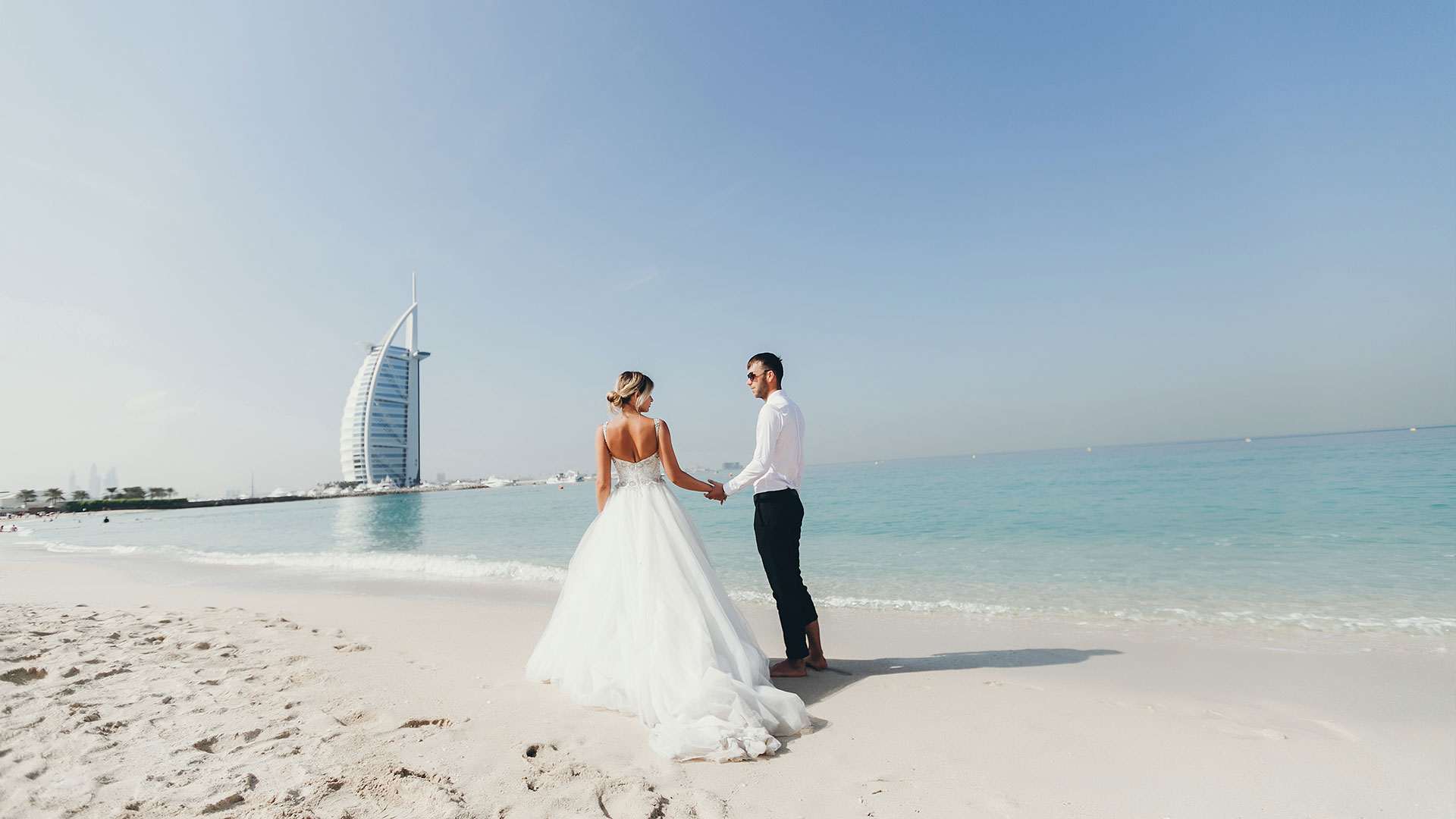 While thinking of how to plan a destination wedding in Dubai, another important question is selecting the season in which you want to conduct your wedding. Most people think that winter is the best time for a destination wedding because Dubai doesn't have a terrible winter. In Dubai, the winter season prevails from October to March. This season is best suited for both indoor and outdoor weddings. Even though most wedding ceremonies in Dubai happen in the winter, you can also get married at other times of the year.
Most wedding planners consider fall to be the busy season for weddings. Autumn is the beautiful season between the end of summer and the onset of winter. It is the ideal temperature. Due to the high demand for resorts and wedding planners during this wedding season, you may incur additional costs. In such a case, you should book your destination wedding accommodations well in advance so that you can enjoy your marriage without hassle.
If you choose a "floral" wedding, the spring season may be the best time for you. The weather is often pleasant, and fresh flowers are abundant. One can see happiness blossoming everywhere. You can have a fresh, bright, and colorful destination wedding in Dubai in the spring, which is perfect for such a life-changing event. Summer weddings might be challenging, but they are spectacular. In the summer, weddings in Dubai can get extremely hot, so you'll need the help of a good wedding planner to make sure the inside is set up well. If you think that your guests can attend your wedding only in the summer since it is a usual vacation for everyone, you must hold your wedding in the summer. If you want it to be cool even in the summer, a professional wedding planner can make that happen.
Know about the destination: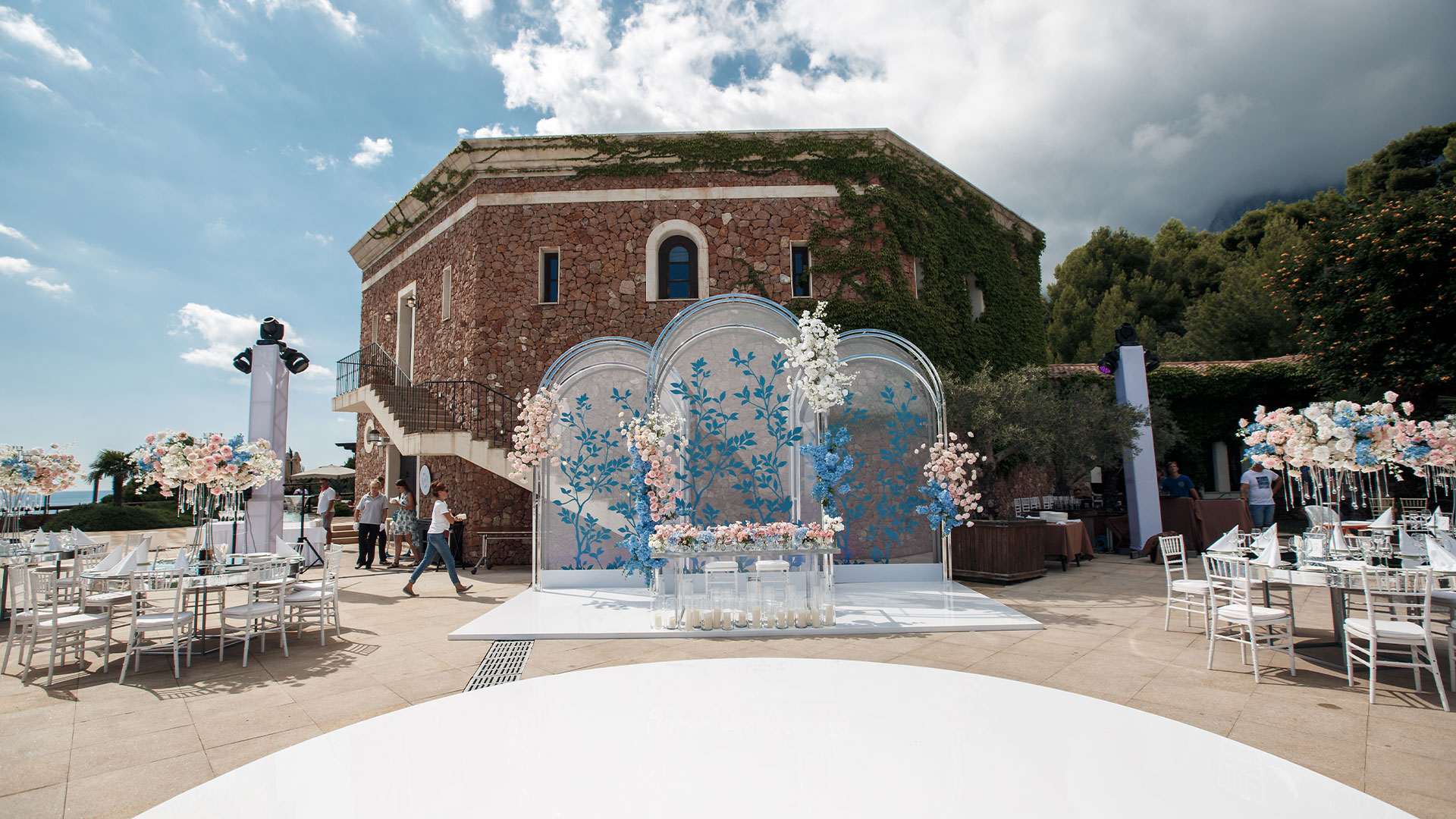 Knowing how to plan a destination wedding in Dubai and all the unique local charms a town has to offer is the first step in creating an exciting experience. Recognize the fact that you are leaving your country for a purpose. Enjoy the customs, trends, and delicacies of the local cuisine. When planning a destination wedding, it would be best to visit the location so you could get to know it and combine the local flavor of the location with your own culture. This will help the destination make an eternal mark with profound meaning. Spend some time eating in the restaurants and getting to know the area so that, when the time comes, the place won't feel strange or unwelcoming. In this way, you can have a wonderful time in Dubai even before the wedding.
FAQs on How to Plan a Destination Wedding in Dubai
Find some frequently asked questions and answers below on how to plan a destination wedding:
Q1.      How Much Does a Small Wedding Cost in Dubai?
Ans.     A new survey ranks Dubai as the 15th most expensive place in the world to host a wedding in 2022 at $25,463, which is equal to Dh93,500. The projected cost of a wedding in the emirate is $10,000 for food, $7,900 for the venue, $4,500 for drinks, $1,300 for a photographer or videographer, $800 for decorations, and about $750 for the cake.
Q2.      How Can I Get Married in Dubai as a Tourist?
Ans.     In Dubai, foreigners can only get married if at least one of them has a valid resident visa. If the wedding couple is on a tourist visa, it will not be feasible for them to marry. Therefore, if you wish to have a destination wedding in Dubai and none of the applicants has a resident visa, you cannot have a legal marriage, but a symbolic ceremony can be performed in Dubai.
Q3.      Who Normally Pays for a Destination Wedding?
Ans.     The wedding celebration, rehearsal dinner, welcome party, and morning-after breakfast are all expenses that the wedding couple is required to cover. Depending on your unique family system, the parents of the groom and bride may volunteer to cover some of this.
Q4.      Do you have to be married to stay in a hotel in Dubai?
Ans.     Dubai's Sharia law prohibits unmarried couples from sharing a hotel room. This is rarely implemented and not to be disputed. Dubai hosts many unmarried couples without any difficulty.
Q5.      Is a destination wedding cheaper than a traditional one?
Ans.     Destination weddings may not be more expensive than traditional weddings. Destination weddings with only close family and friends save money over traditional weddings with a larger number of guests.
Conclusion
Knowledge of how to plan a destination wedding in Dubai will assist you in making your dream day a reality. Planning well in advance, considering the budget, and season and taking care of the legal formalities required to have a destination wedding would help you have a happy hassle-free destination wedding. Happy wedding!!