Top 25 Best Dating Spots in Dubai for Couples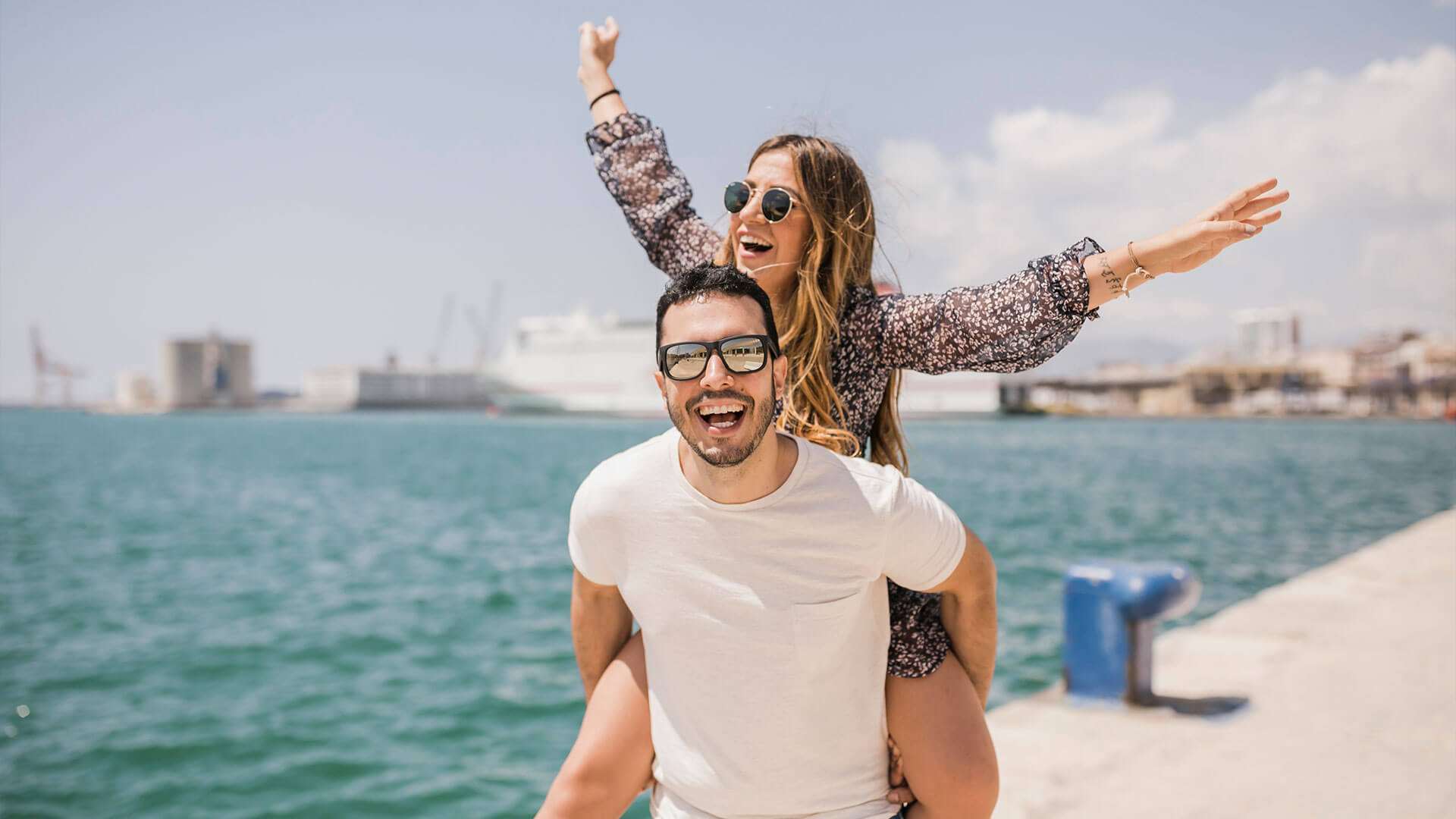 We get it, you don't know where to find the best dating spots in Dubai for couples, or you won't be here. Well, you are in for a treat. Intimacy and a romantic atmosphere may be achieved in a variety of ways, and it can be challenging to narrow down the options until you find what works best for you. If you are a tourist looking for a romantic setting, you can't go wrong with Dubai.
In addition, if you're a local in Dubai who has visited the same old spots with your significant other, you'll be surprised by the variety of romantic activities the city offers after reading this article. Because of its stunning beauty, Dubai is a must-visit for any traveler searching for extraordinary destinations. Continue reading, and let's explore!
Best Dating Spots in Dubai for Couples
Dubai has a variety of spots with stunning views and romantic ambiance. This is a comprehensive list of the best dating spots in Dubai for couples. Let's start:
1.  Dubai Miracle Garden
Get ready to find the miracle in blooming flowers!
Dubai Miracle Gardens, which claims to be the largest flower garden in the world, is a beautiful and fragrant location for a romantic outing. This is the ideal spot for a romantic photo shoot, with giant heart-shaped flower arrangements and cute walkways. This is also a great spot to plan a marriage proposal as well. 
You'll find a true oasis of love among the flowers in Dubai at the Miracle Garden. While strolling around the garden, your eyes will be treated to the brilliant colors of more than 45 million flowers in a rainbow of hues, artfully arranged in breathtaking arrangements.
The towering floral sculptures, elaborate flower arrangements, and the lovely aroma of the blooms create a fairytale setting. The two of you will feel closer to one another as you take in the sights of this natural treasure together.
2.  Dubai Fountain
Let your eyes indulge in Dubai's romantic and splendor colors while you exchange your I love you in one of the budget-friendly and best dating spots in Dubai for couples.
Romance shimmers like the lights on the water of the Dubai Fountain, a symphony of light, water, and song. While watching the fascinating show, your heart will beat in tune with the waters.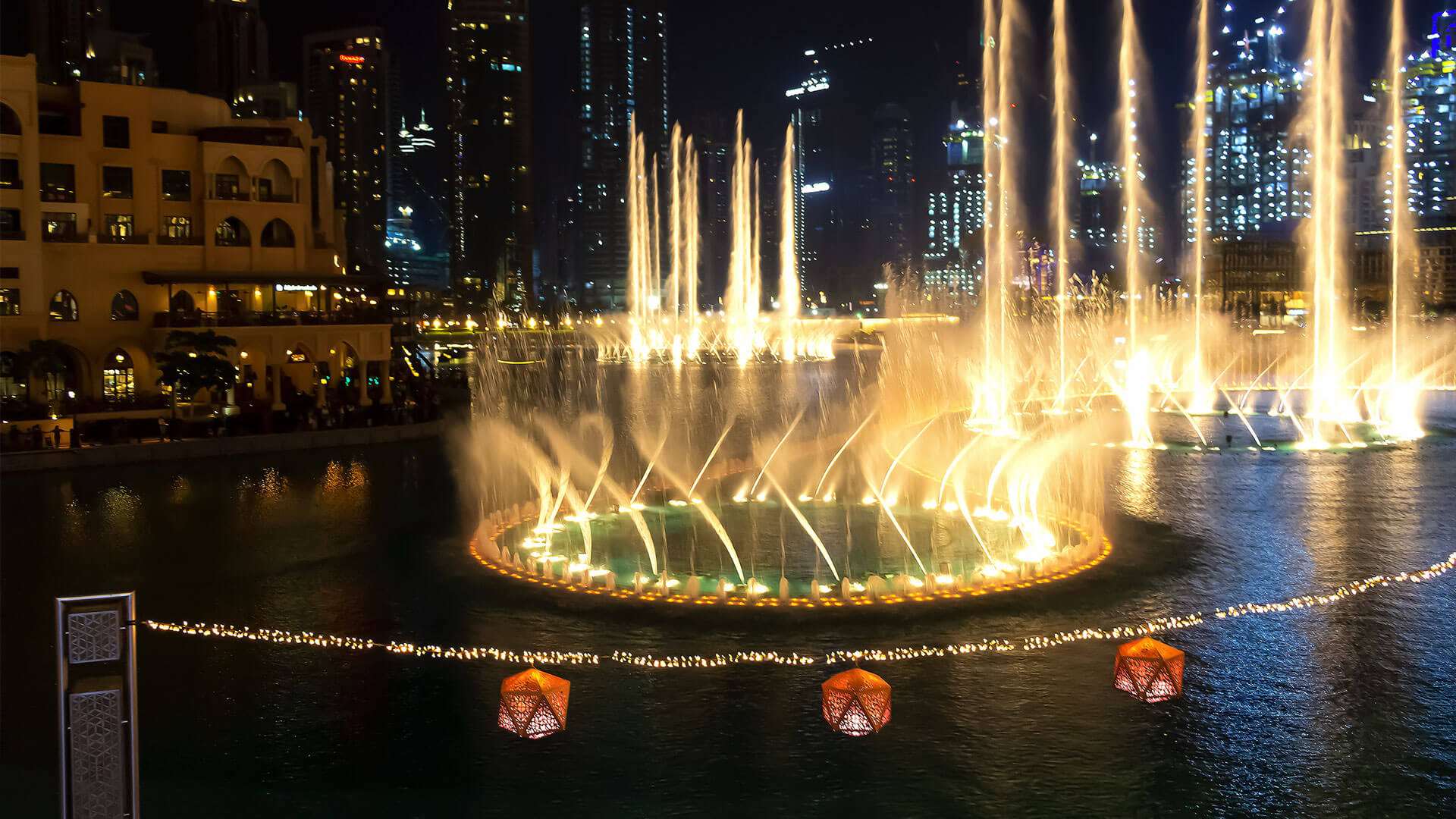 The tall water jets moving in time to the music are a sight to behold. The water comes to life with every change, creating a breathtaking spectacle that will mesmerize you.
As you stand there watching the water's flowing motions, you'll feel your love growing stronger with each passing instant.
3.  Mamzar Beach and Corniche
If both of you exploring love in the water and fresh air breeze, just keep it solemn or lowkey. This one is an absolute recommendation!
Sun, sea, and sand join you at Mamzar Beach and Corniche to create a romantic getaway. You can feel the sun's rays warming your skin and the sea wind caressing your face as you stroll hand in hand along Mamzar Beach.
It's hard to imagine a more idyllic setting for a picnic or a stroll than this stretch of golden sand. Feel your cares fade as you soak in the moment's splendor and stare out over the azure seas of the Arabian Gulf.
4.  The Eauzone
Destress from the busy streets of Dubai and indulge in serenity at Eauzone.
At One & Only Royal Mirage's Eauzone, you'll find an oasis of calm where romance and leisure coexist. When you enter this peaceful retreat, your worries will fade away, and you can focus on each other.
At the Eauzone, diners can enjoy a meal while gazing out at the setting sun between palm trees and floating Majilis. The Eauzone is quickly becoming the go-to spot for any couple in Dubai, serving as both a casual and classy eatery by day and igniting passion between diners at night with its Asian-inspired twists on Western classics.
5.  Green Planet
Dine and enjoy yourselves in one of the most romantic dating spots possible because you two deserve to be enchanted by one other. Spend an unforgettable evening with your special someone surrounded by exotic plants and animals. 
Explore the Green Planet at your own pace, and look up at the thriving canopy to see the unusual flora and animals. You'll be captured and taken to a fantastical land of endless possibilities as you explore hand in hand.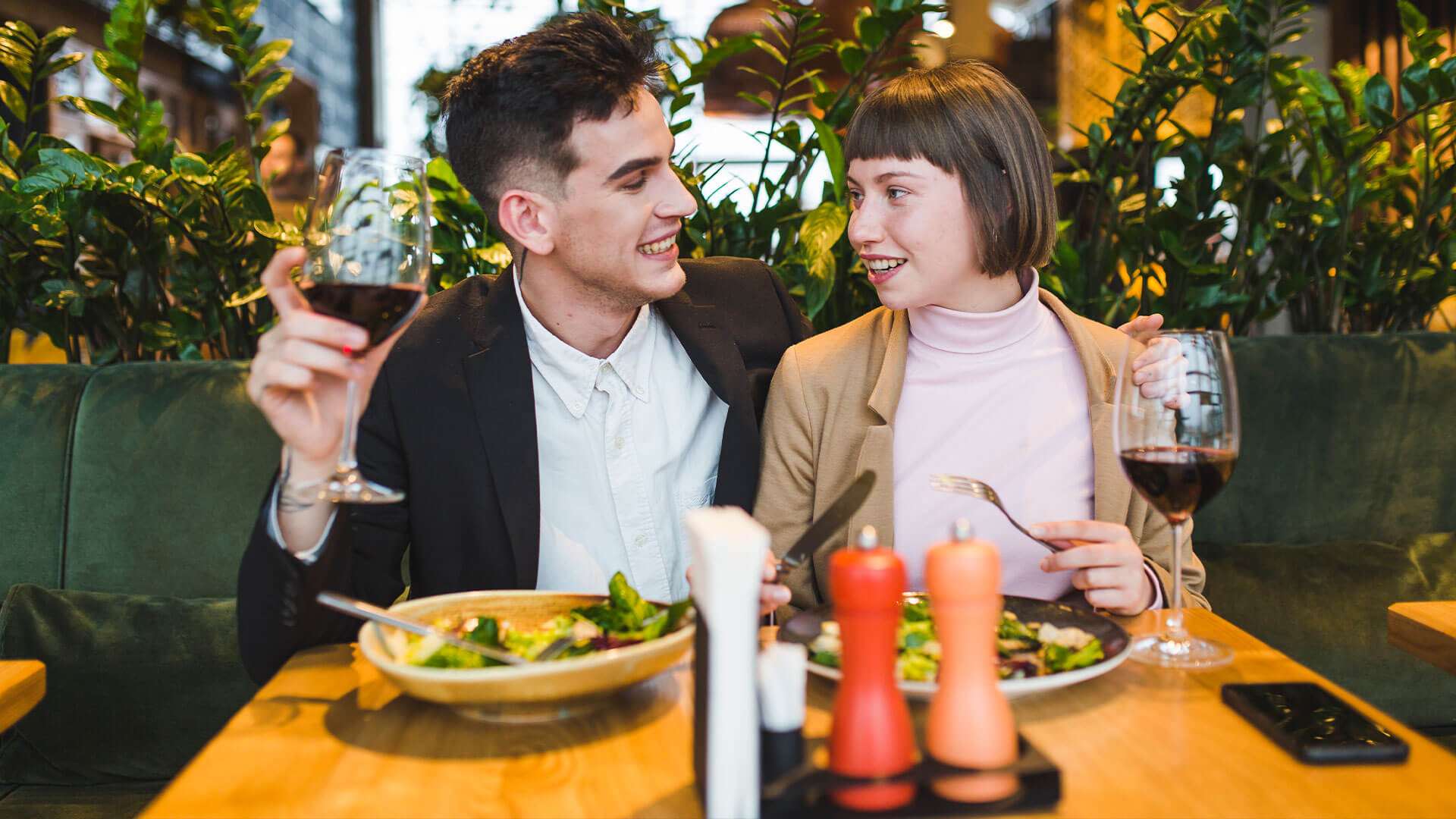 Relax and enjoy each other's company while gazing in awe at the amazing jungle inhabitants. The Green Planet is a place of love and amazement, whether you're watching the cheeky monkeys or just taking in the sights of the lush vegetation.
6.  Falcon Oasis Floating Restaurant
Float in love and get lost in Oasis. You may have a one-of-a-kind and utterly unforgettable meal at the Falcon Oasis Floating Restaurant in Dubai. In Dubai, UAE, you'll find the Falcon Oasis Floating Restaurant on Marina Promenade Street, close to the DoubleTree by Hilton and right behind the Jewels Tower.
When you go aboard the elegant ship, you'll hear the water lapping softly and see the beautiful coastline of the Arabian Gulf. Indulge in a delectable lunch made by master chefs while taking in stunning cityscape views. A great evening with your significant other is made all the more memorable by the ambiance created by the dim lighting and soothing music.
Walk around the terrace and see the twinkling city lights and the starry sky above. As you stand there watching the water's soothing motions, you can feel your love growing stronger with each passing instant.
7.  Dubai Opera
Are you guys fun of live music and vibe? You must take your partner to Dubai Opera; the place will surely blow your mind.
Relax in the comfortable seats and enjoy the incredible sound and magnificent design. As the house lights go down and the performance begins, you will be taken to a place of magic and wonder where anything is possible.
Experience one of the best dating spots in Dubai, whether it be a riveting opera, enchanting ballet, or exhilarating concert. And as you lose yourselves in the enchantment of the performance together, you'll feel your love for one another deepen with each passing second.
8.  Ski Dubai
How about you hold hands and guide each other on an exhilarating adventure? It will be epic, and you will surely enjoy each moment.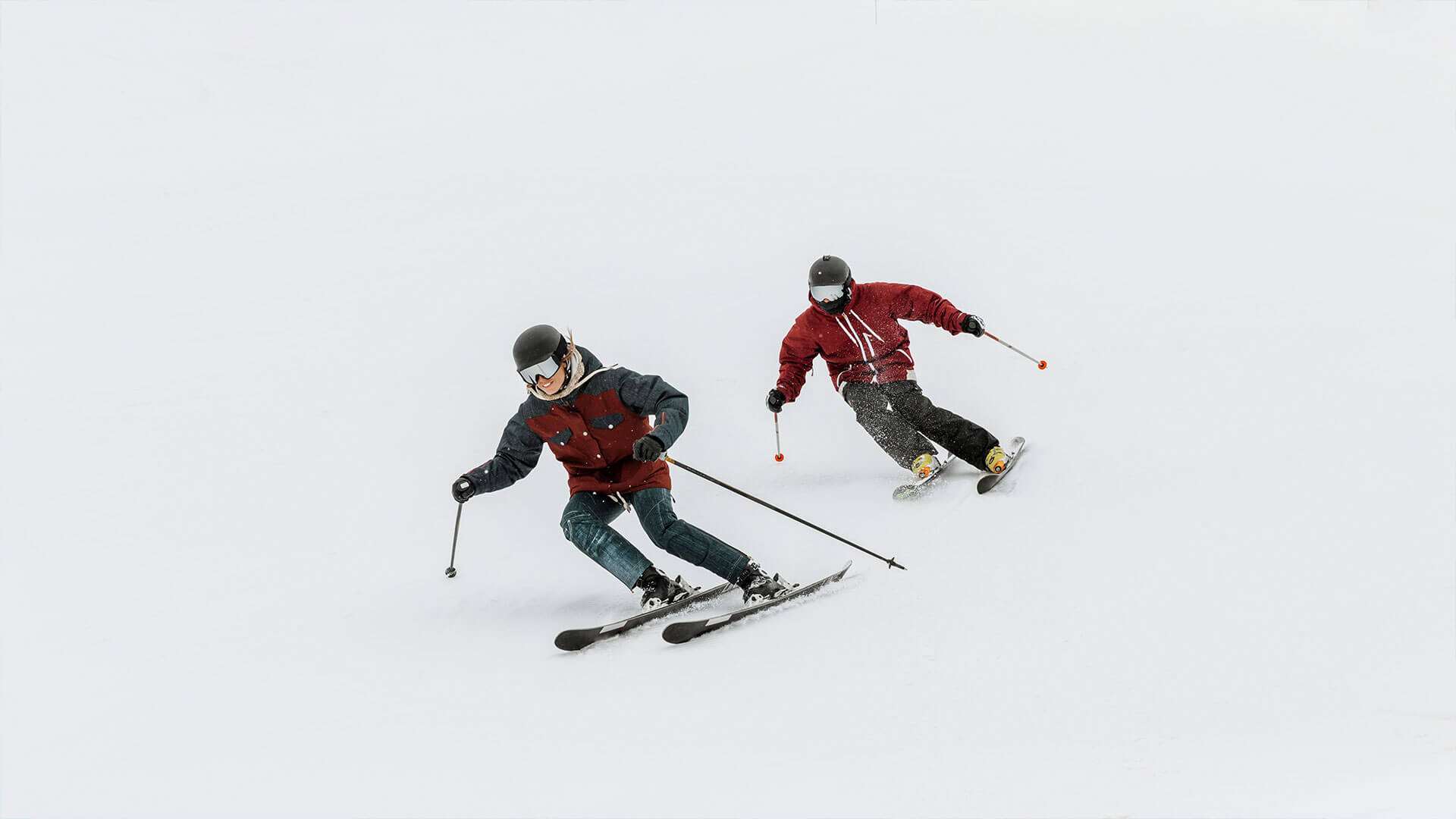 Dubai's Ski Resort is a romantic winter paradise where two people can share exciting new experiences. The indoor ski resort is like stepping into another universe, with snow, thrills, and picturesque mountain views.
Go skiing or snowboarding with a friend and have a good time carving down the mountain. Ski Dubai is one of the best dating spots in Dubai, with the thrill of skiing, regardless of your level of expertise.
Ski Dubai is the perfect dating place to spend a day of adventure and love in a pristine winter setting.
9.  Hub Zero
Are you guys into competitions and games?
Hub Zero is an interactive gaming hub in City Walk that connects the physical and digital worlds. Play some of the most exciting games ever created with the one you love. Choose this venue if you'd like your date night to look like a throwback to the '90s, complete with Pac-Man, Pinball, and other retro arcade games.
Try one of the exciting rides together and feel the adrenaline pump through your veins. Hub Zero is the ideal location for letting your love soar while playing your favorite VR game, be it a zombie shooter, a racing sim, or a global explorer.
10.  Dubai Secret Room
Bet you are intrigued by just the thought of it.
Catch every move, find privacy, and experience one of the hidden dating spots in Dubai here at Secret Room. The Dubai Secret Room is a hidden gem of mystery and romance. When you go inside some private dating spots in Dubai Nook, you'll be enveloped in the soothing light of candles and the sound of loving words.
Recline in the cozy confines of this chamber and the shared silence that will ensue. You'll find the hidden room to be the ideal setting for romantic endeavors, whether they involve the exchange of a bottle of wine or nothing more than the loss of yourselves in one another's company.
Relax and take pleasure in each other's company as you take in the peaceful atmosphere. You'll find that your love for one another deepens and blossoms as you take it easy and unwind together.
11.   Kayak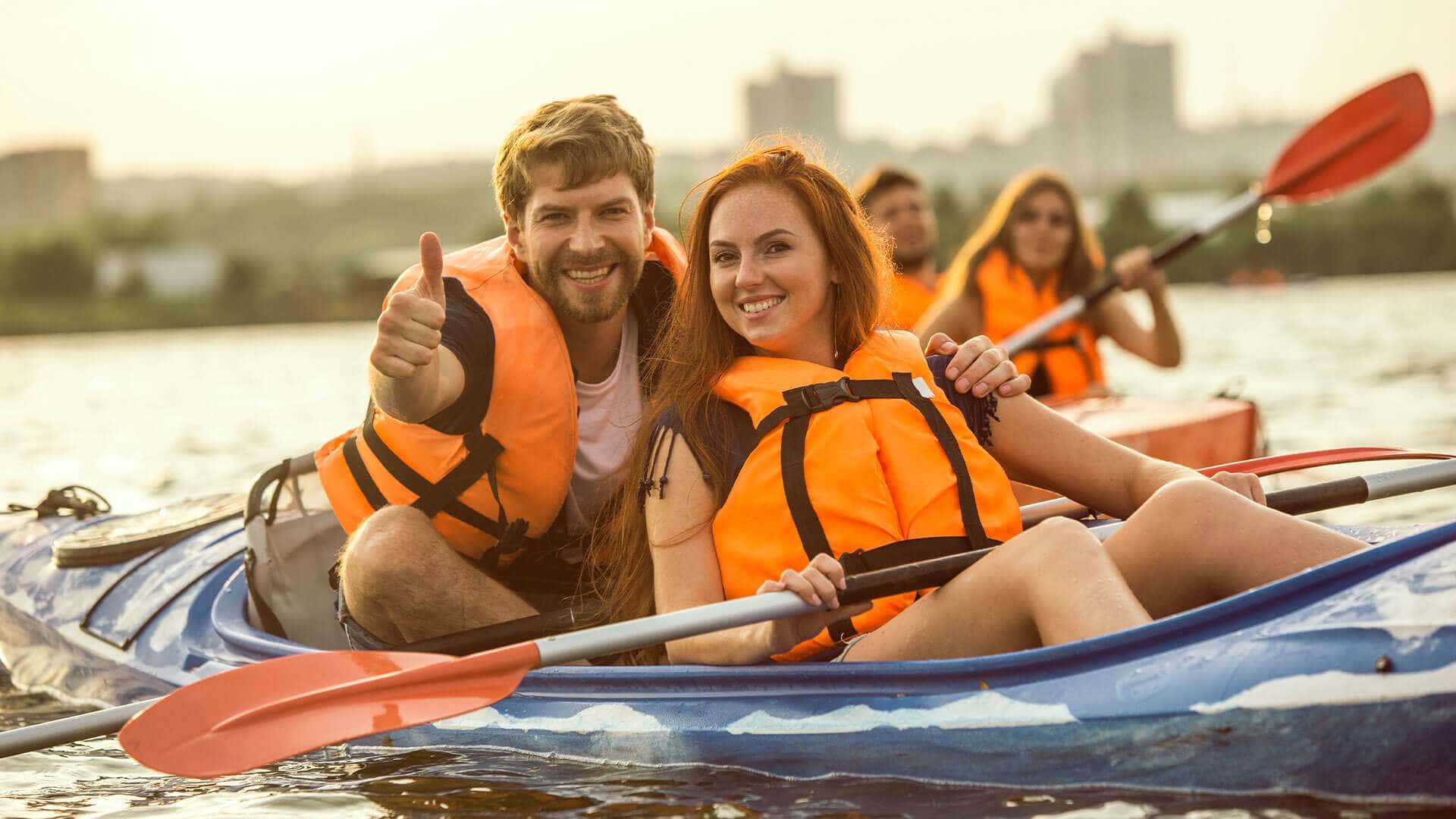 Hop on and let the waves take you on a ride of your life!
Dubai's kayaking trips combine the thrill of exploration with the allure of the wild outdoor dating spots in Dubai. You'll feel your hearts beat in unison as you float effortlessly across the glistening seas, surrounded by the natural beauty of the sea and sky.
See the beautiful sights and discover the secluded beaches and coves that make the Dubai coast unique. Kayaking is the ideal way to take in the sights of the coast, whether you're exploring the sheltered waters of a lagoon or venturing out into the open sea.
12.   Pierchic, Madinat Jumeirah
Date Night problem, alert? Haven't you found the right spot for a perfect romance by the sea?
Pierchic in Madinat Jumeirah is a haven for couples in search of both romance and refined dining. The breathtaking scenery of the ocean and sky will make your breath catch as you go out onto the pier.
Reserve a table at the fine dining establishment and enjoy the company of your loved ones while gazing at the ocean and the skyscrapers of Dubai. Pierchic is certainly one of the best Dubai dating spots for couples which is ideal for a romantic celebration because it is where you can both enjoy yourself, whether with a lavish meal or just a glass of champagne.
Stroll hand in hand along the pier and take in the sights of the water and the city's glitz. Pierchic is where love and elegance meet in an environment and refined atmosphere.
13.   XLine Dubai
Greater heights for a one-of-a-kind experience of date?
Don't worry; Xline will take your breath away, for you will love it and probably make your hand skip a beat once you are above all the Dubai skyscrapers.
XLINE For those seeking adventure and love, Dubai is the place to be. When you set foot on the platform, looking out over the breathtaking Dubai skyline, your adrenaline will begin to pump.
Together, you can take the plunge and soar through the air at breakneck speeds, soaking in the sights and sounds of the city as you go. XLINE Dubai is the best spot to feel the adrenaline rush, whether you want to shout with joy or just take in the sights.
Relax for a while and soak in the city's splendor as you take in the tall buildings and picturesque coastline. XLINE Dubai is the perfect venue to celebrate your love of adventure and the beautiful city of Dubai.
14.   Wakeboarding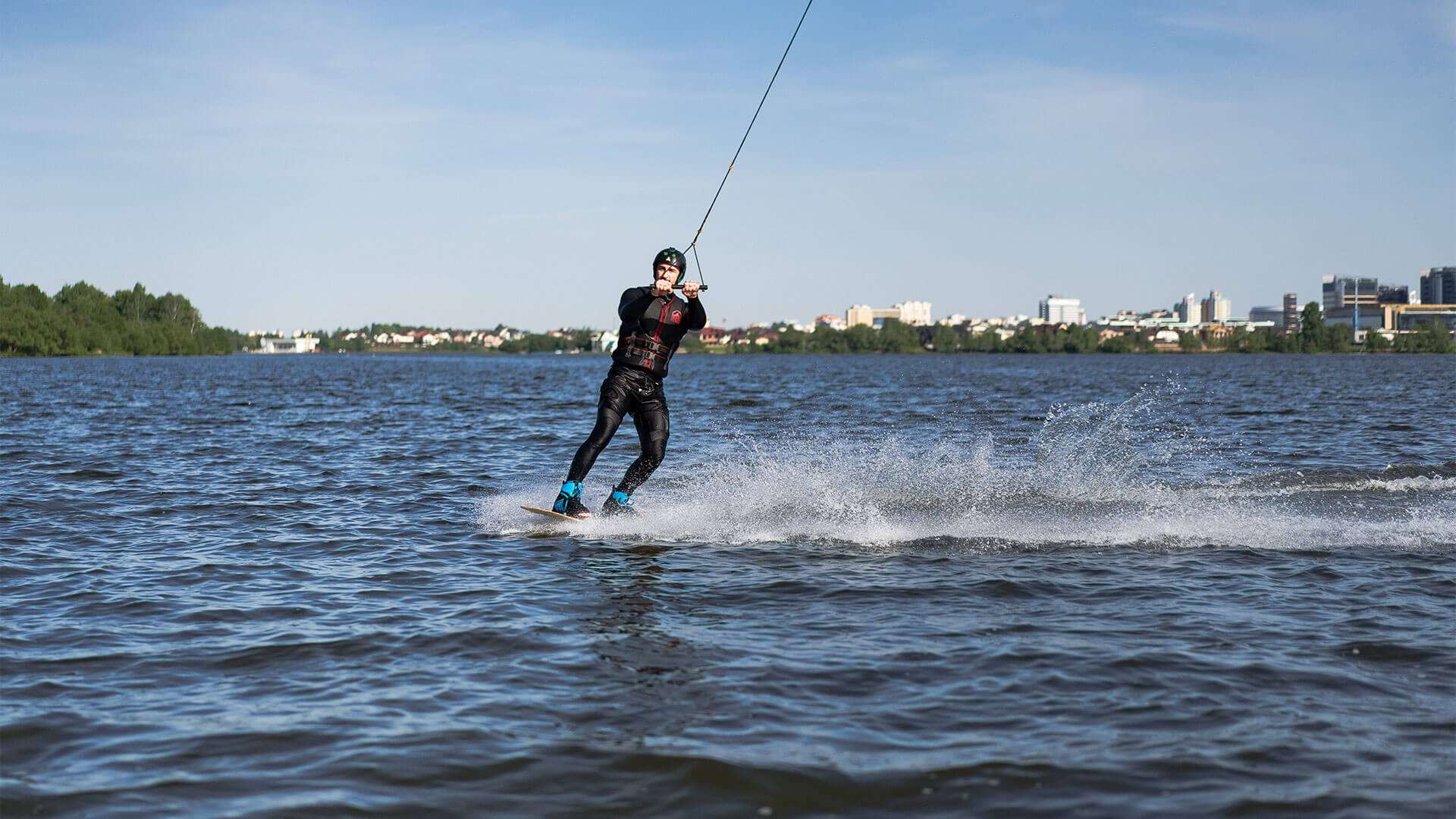 Do you want to get the adrenaline rushing for you both? Wakeboarding will never disappoint.
Adrenaline junkies like you will take you to an extreme date. In Dubai, you may go wakeboarding, a thrilling and romantic activity. With the majesty of the ocean and sky all around you, you'll feel your hearts beating in sync as you float along.
Challenge each other on the water and share in the exhilaration of surfing as a team. Wakeboarding is an excellent way to enjoy the ocean, whether you want to do tricks or ride the waves.
15.  View At The Palm
I love to walk, be sophisticated, and indulge in luxury. This one will be the perfect one.
The View at The Palm is a haven for couples seeking luxury and sophistication. Your breath will catch as you step out onto the terrace and take in the breathtaking views of the palm and the Dubai cityscape.
Relax in the plush booths of the restaurant while taking in the panoramic views of the waterfront and nearby city. View at The Palm is the ideal location for a romantic celebration, whether you indulge in a sumptuous dinner or simply drink a glass of champagne.
Enjoy the city's splendor and the palm's glitz by strolling the terrace together in hand. View at The Palm is where romance and luxury meet in its picture-perfect surroundings and refined ambiance.
16.  Camp In The Desert
Just wanted to stare at the stars while you gazed into each other's eyes?
Traveling to the desert of Dubai for a camping trip is like taking a journey into the heart of nature with your loved one. You'll feel your hearts beating in unison as you set up camp beneath the stars in the desert, surrounded by the motionless dunes.
Camping in the Dubai desert is one of the most romantic dating places in Dubai to appreciate nature while also spending quality time with your significant other, whether you prepare a romantic supper over the fire or not. Not only for dating but if you want to celebrate your birthday with your loved one it will be perfect as well.
Enjoy the changing colors of the desert sky as you stroll hand in hand through the dunes. Camping in the Dubai desert is a romantic and exciting experience, with its tranquil setting and beautiful landscape.
17.  Hot Balloon Ride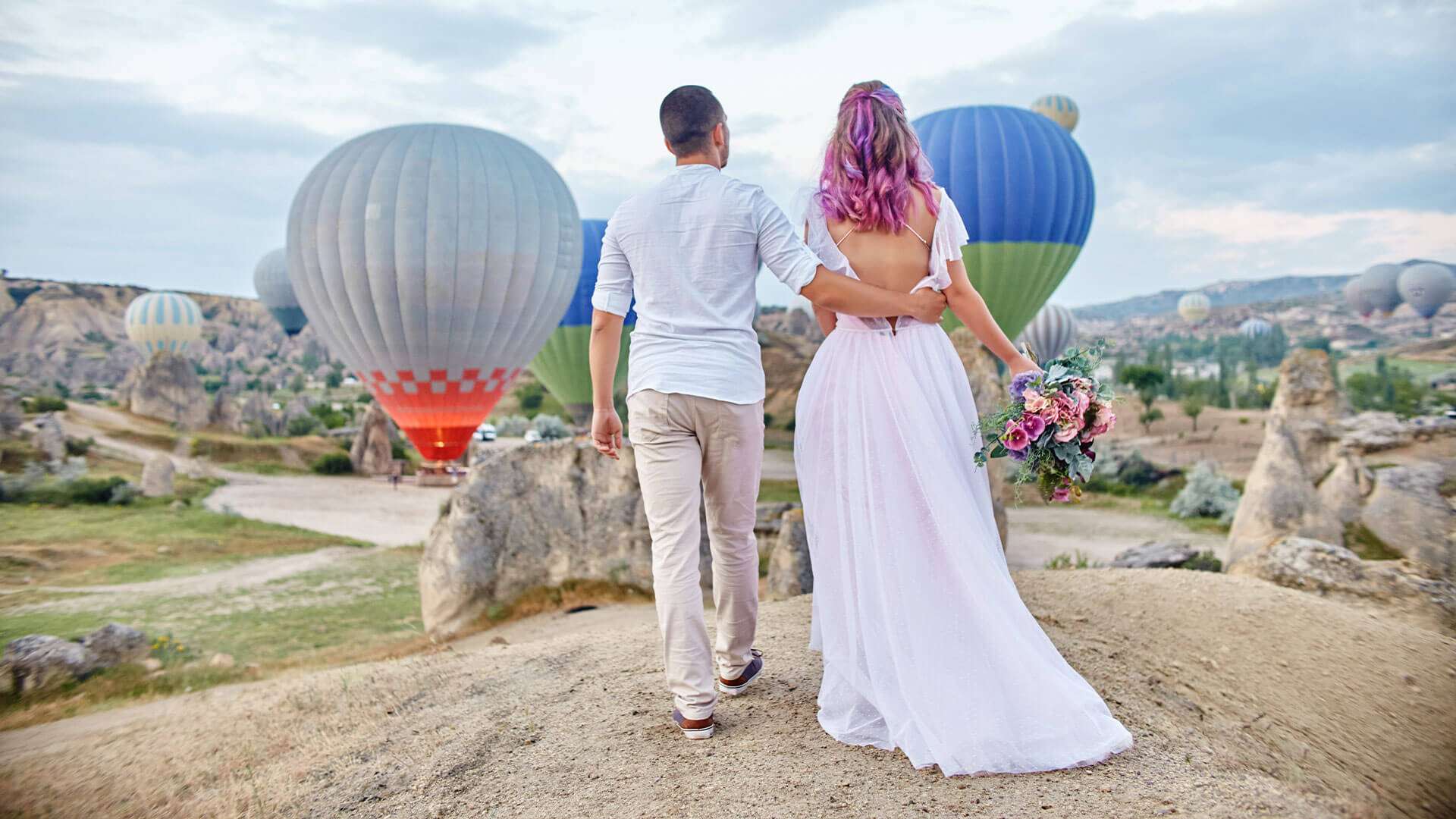 Find the splendor above and love it all the way up!
When you go to the skies in a hot air balloon, you're headed to a magical location where romance and excitement collide. Your hearts will beat in unison as you soar above the earth, surrounded by the breathtaking scenery below. This dating spot is a perfect destination to spend Valentine's Day in Dubai.
Marvel at the sky's transformation from black to orange, pink, and purple as the sun rises and sets. A hot air balloon journey is the ideal opportunity to see the world from a new vantage point, whether sightseeing or spending quality time with friends and family.
18.   La Perle
La Perle is starstruck when you love to go to luxurious dating spots in Dubai and watch superb performances.
La Perle is where love and magic converge; it is a place of enchantment and mystery. Everyone's hearts will start to beat as they take their seats in the plush auditorium and see the breathtaking acrobatics and visual effects.
Enjoy the stunning performance as a group and marvel at the talent on display. La Perle is the ideal location to experience the magic of the theater, whether you want to focus on the breathtaking aerial acts or just relax in the company of your loved ones.
19.  Empty Quarter Art Gallery
Is your special someone an art connoisseur, or do both of you just enjoy the canvas while exchanging perspectives? Empty Quarter is for every couple who quenches art for life.
Dubai's Empty Quarter is a haven for nature lovers and those looking for an exciting new experience. Your hearts will beat as you go across this wide desert environment, surrounded by the undulating dunes and the silence of the desert.
Explore the desert together, taking in its peaceful majesty and the beauty of the sand. The Empty Quarter of Dubai is a wonderful area to take in the sights of nature while also spending time with friends and family or simply relaxing.
20.   Café Ceramique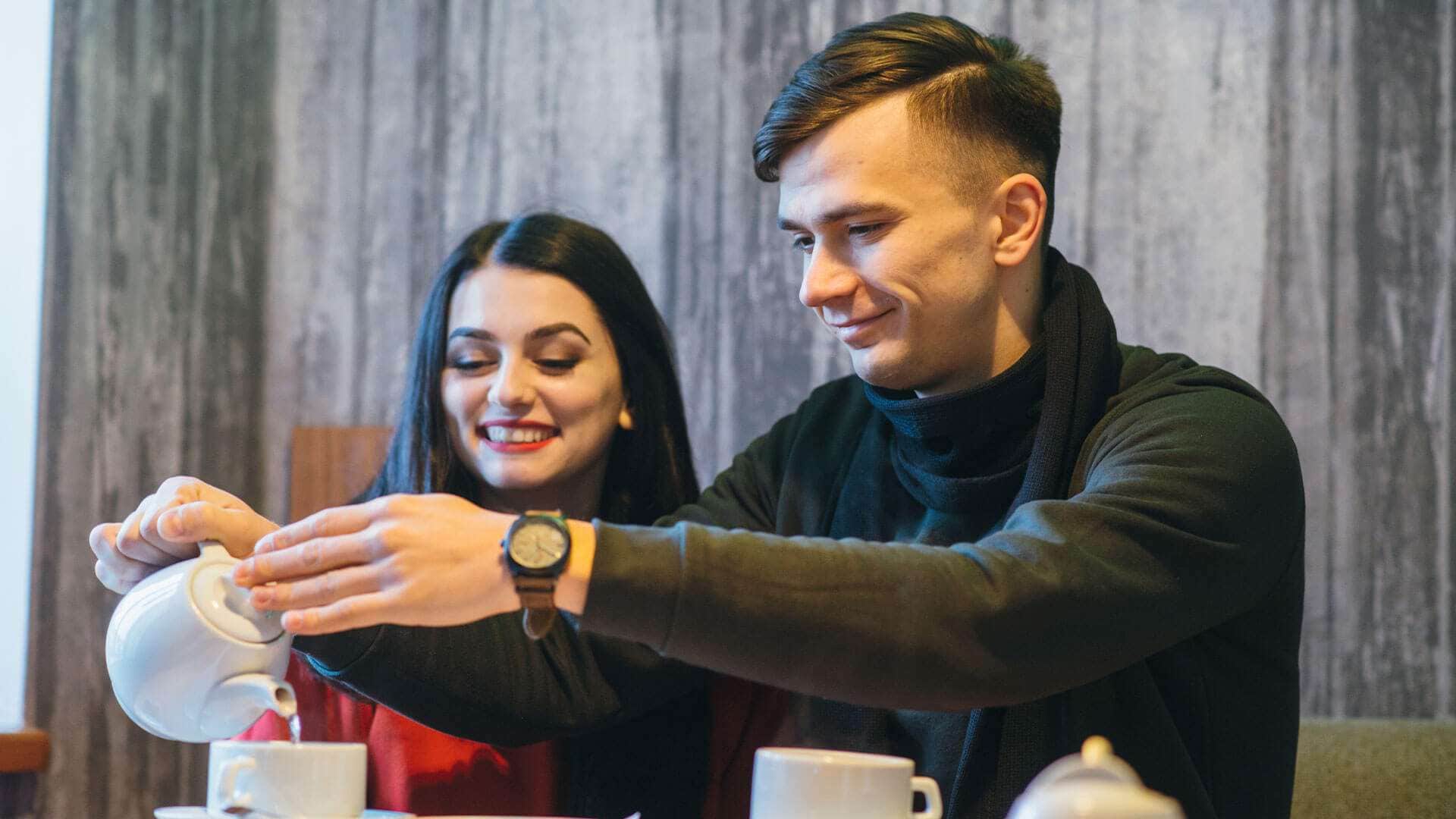 Balance: Art, food, and coffee. Who wouldn't love that?
At Dubai's Café Ceramique, lovers and artists may mingle in an atmosphere that is equal parts inspiring and relaxed. Your hearts will beat in unison as you relax in the warm and welcoming setting, surrounded by stunning ceramics and pottery.
Relax with a hot beverage while appreciating the artistry and craftsmanship of the ceramics. Whether you're interested in perusing the artwork on the show or just want to spend with your partner, Café Ceramique is an excellent choice.
21.  Yadawei Ceramic Studio
When you have never tried pottery, try to master your creativity at Yadawei Ceramic Studio.
In Dubai, at the Yadawei Ceramic Studio, you may find these hidden dating spots in Dubai where art and love meet. Stepping inside the studio and surrounded by the potter's or ceramicist's wonderful creations will unify your spirits.
Walk around the studio together, ogling the ceramics as you go and discussing how much you appreciate the artistry that went into making each one. Yadawei Ceramic Studio is the ideal venue for enjoying art's aesthetics while having fun with friends or family.
22. Siddharta Lounge
The date on a rooftop: nothing beats a classic drink, food, stars, good music, and a view of the city lights!
You may find a fusion of love and high style in Dubai at the Siddharta Lounge. Your hearts will quickly beat in sync as you enter the lounge and take in the luxurious decor and soft candlelight.
Take in the beautiful cityscape while sipping a drink of wine or a tasty cocktail. Siddharta Lounge is a wonderful spot to celebrate the splendor of love, whether by gazing at the cityscape or basking in each other's company.
23. Escape Rooms In Dubai
Geeky for date night? How about solving mysteries for a new bond and date night?
If you and your significant other need new and exciting date ideas in Dubai, you've come to the right place.
Visit one of Dubai's escape rooms and make it a date. In Dubai, you may choose from a wide variety of escape rooms, some of which include solving murder mysteries while others are based on the adventures of Sherlock Holmes.
24.  La Mer
If you're searching for a romantic spot to have a casual date in Dubai, you can't do better than this beachfront spot.
You'll find everything you need at La Mer for your first date. You can go shopping, eat, chill, and play. A full-day trip at the beach can consist of anything from lounging on a sunbed to jet skiing. Complete the experience with a visit to one of La Mer's finest dining establishments.
25.  Kitchen 6
Street food is galore! And nothing beats food shared with your loved one.
Dates in Dubai can also be delicious with a cuisine tour. The cultural diversity of Dubai is reflected in its diverse cuisine. Because of the high quality of the restaurants here, this city is widely regarded as a culinary paradise.
Take your significant other on a romantic Dubai cuisine tour, such as Kitchen 6. If your significant other is a foodie, you can't go wrong with these date suggestions.
Final Thought
While selecting the best dating spots in Dubai for this article we always keep in mind a few things.
As we know a great date spot is like a hidden gem where two people may share their love and make each other shine. So we make sure that the restaurants and night places we pick are dimmed to create a cozy, intimate setting where the ambiance is the main attraction. Also, the stunning spots like the desert, ski trips, and balloon rides are where the only sounds are those of clinking glasses, sweet nothings being whispered, and a beautiful tune playing in the background.
We appreciate you taking the time to read this article. It is my sincere hope that you find it useful.
FAQ's
1.  What are the Best Dating Spots in Dubai?
There are a lot of dating spots that Dubai has to offer, top spots among them are the miracle garden, hot air balloon ride, art galleries, and a lot more.
2.  Where Can I Take My Date in Dubai?
You can take your date in a desert camp, an extravagant La Perle, or even on the Dubai Fountain and Mamzar beaches.
3.  Are There Any Romantic Places to Visit in Dubai?
Yes, there were a lot of romantic places like going stargazing and View At the Palm.
4.  What are Some Unique Dating Ideas in Dubai?
Ride in a hot air balloon, and go to studios, galleries, or even Xline Dubai.
5.  Are There Any Secluded or Private Dating Spots in Dubai?
Yes, you can try the secret room.