24 Beach Marriage Proposal Ideas in Dubai (List & Guide)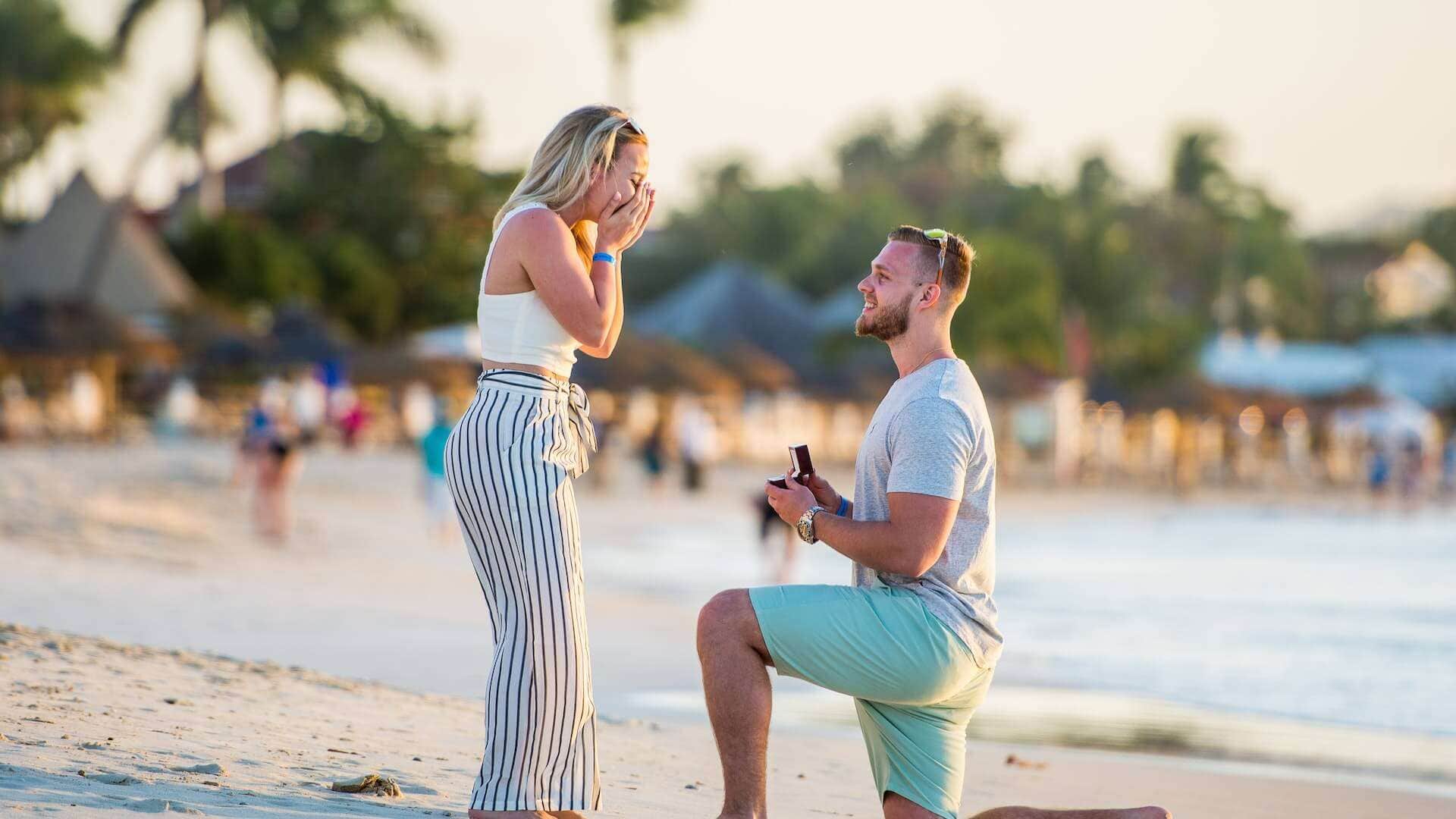 Searching for beach marriage proposal ideas in Dubai? While the city is more popular across the world for its opulence and innovation, it also boasts over a dozen free breathtaking beaches. The combination of cutting-edge architecture, pristine sandy shores, and warm Arabian Gulf water makes it an ideal destination for a romantic beach proposal.
In this article, we'll take a look at 24 unforgettable and imaginative beach proposal ideas to help you capture the essence of this city's extravagance and beauty.
1.  Beach Picnic Proposal
If you're looking for something unique and extraordinary, how about setting the stage for a heartfelt marriage proposal as you enjoy a private beach picnic? Imagine soft sand beneath your feet, a blanket strewn with pillows, and a luxurious gourmet spread to savor as you watch the sun dip below the horizon.
There are plenty of private beaches in Dubai and you can look for beach proposal packages to eliminate the hassles of creating that perfect moment you and your partner will cherish for the rest of your lives.
2.  Yacht Proposal
The iconic skyline of Dubai is world-renowned. Imagine sailing on a private jet with this magnificent skyline as the backdrop and the sun setting in the evening hues. As the city lights begin to twinkle, you drop on one knee with the carefully chosen ring in your hand and ask the question you've been wanting for some time now.
Isn't this the kind of fairytale proposal you have in your mind? The luxurious and intimate setting of the yacht proposal is sure to create a lifelong memory.
3.  Beach Treasure Hunt
Want to keep your sunset marriage proposal on the beach playful and fun? A beach treasure hunt can be the one for you. One of the ways to do it is by building a few different sandcastles and each having a handwritten note with inside jokes, shared experiences, or expressing your eternal love. The finale would be the most beautiful castle having the ring box hidden in the sand.
As she opens the lid, you get down on your knees, look your partner in the eyes, and pop the question. With the beach waves gently crashing in the background, this sure can be the perfect romantic proposal idea you're looking for.
4.  Fireworks Display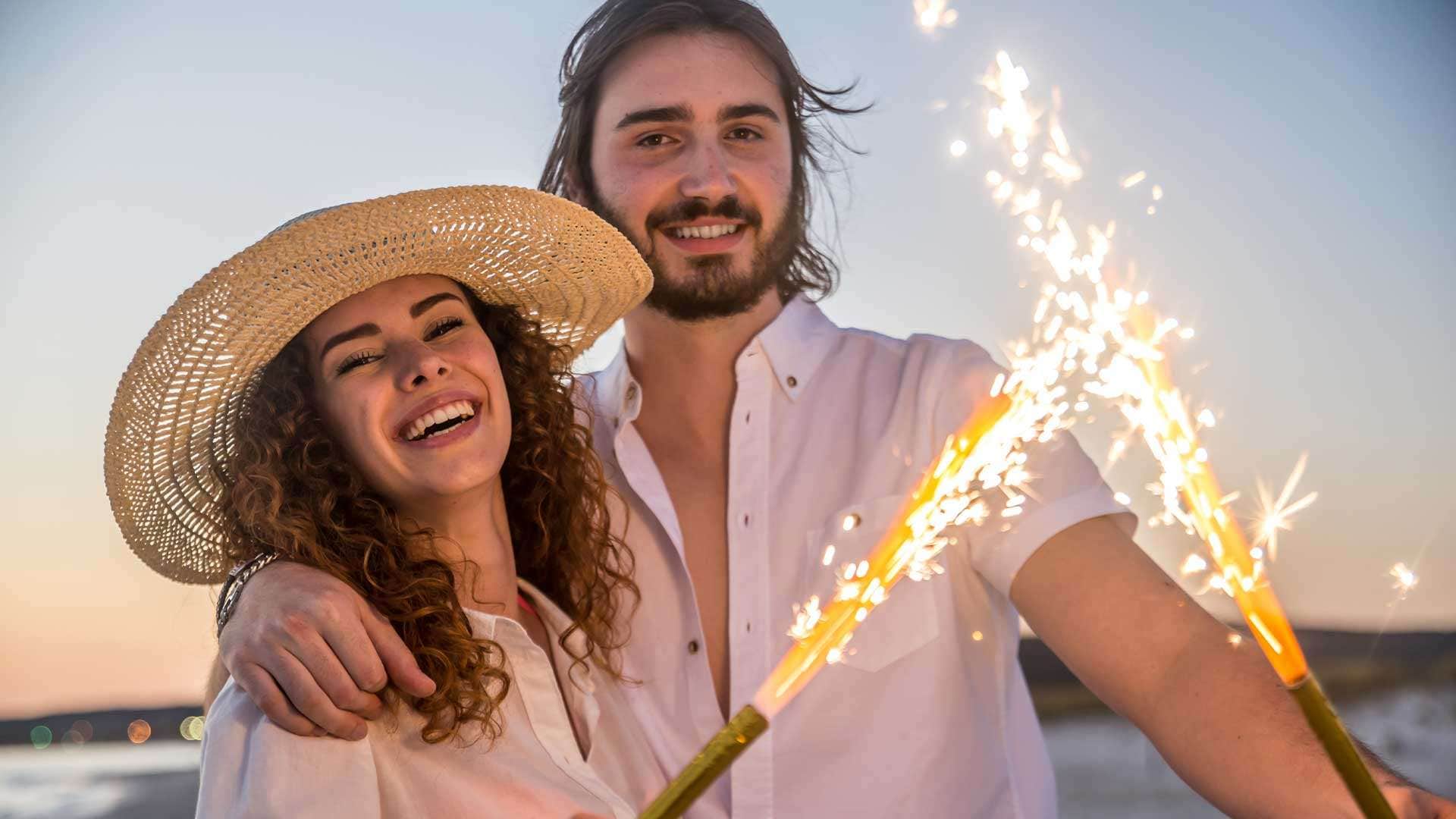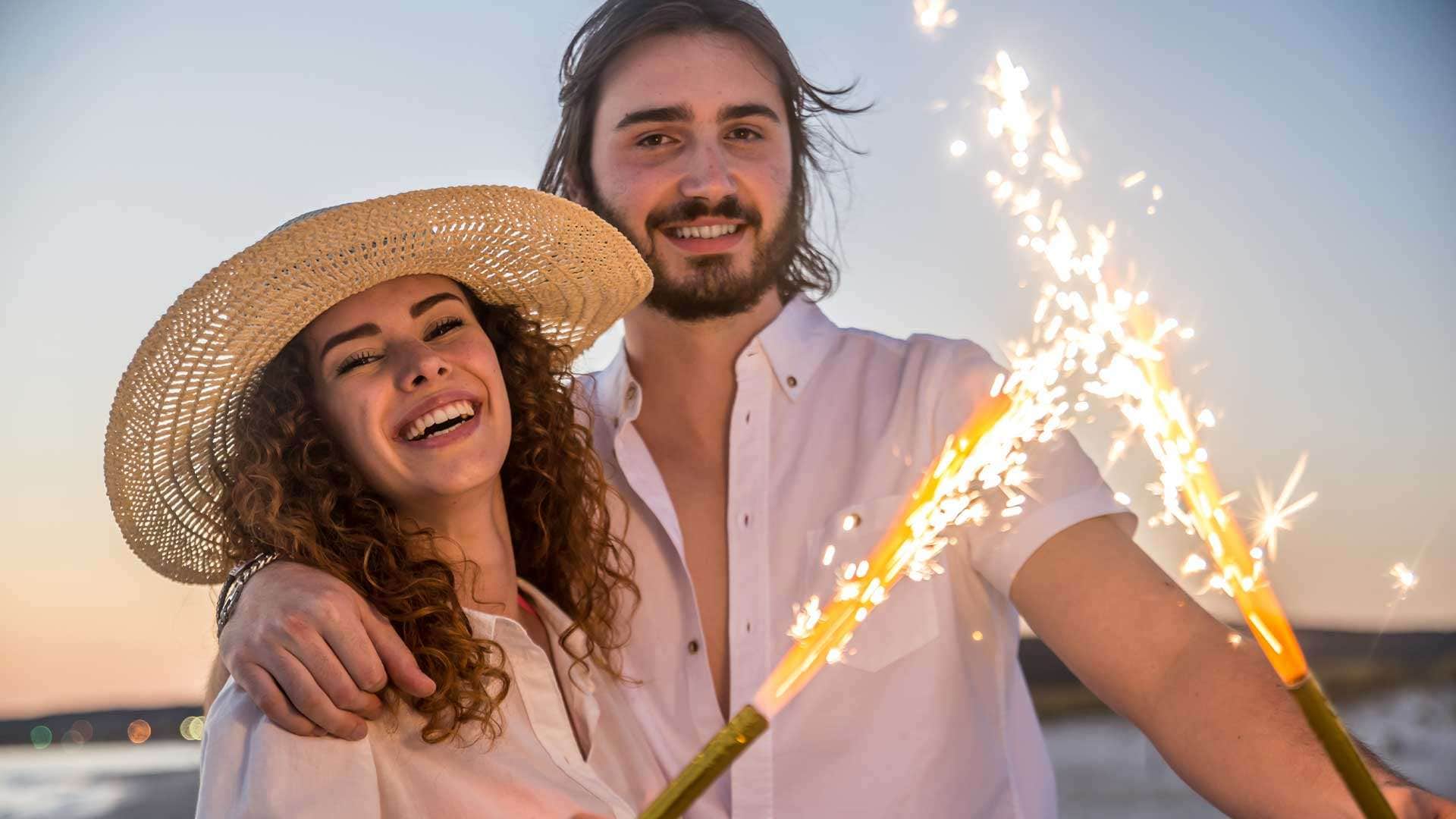 How about adding loads of excitement to your beach proposal with a fireworks extravaganza? Just think about the night sky bursting into vibrant colors as you take your partner's hand and ask her to be yours forever. The dramatic city skyline along with the sea will add an extra layer of grandeur to the occasion.
Dubai has a tradition of dramatic firework displays and it shouldn't be difficult to find a reputed event planner that will help you execute this dream proposal.
5.  Beach Bonfire
Beach bonfires are a thing of beauty. The cold beach air and the warm bonfire create the perfect ambiance for something as important as a marriage proposal. Imagine the two of you snuggling next to the bonfire at a secluded location on the beach and you remove the ring from the pocket and ask the all-important question.
Many of the hotels in Dubai have private beaches and it shouldn't be very difficult or expensive to make these arrangements. Just ensure you take the necessary permissions to keep things safe and enjoyable.
6.  Message in a Bottle
Searching for time-tested beach marriage proposal ideas? This one is for you. Message-in-bottle proposals have been around forever and for all the right reasons. Just imagine a romantic night walk with your partner and you stumble upon a vintage bottle that you strategically placed in the sand with a handwritten note.
As your partner is busy reading the note, you're ready on one knee with the engagement ring all set to propose for marriage.
7.  Underwater Proposal
If you and your partner love adventure sports, an underwater proposal can be a great idea. Scuba diving beneath the tranquil waters and enjoying the colorful marine life sure makes a romantic setting for popping the question. You can have a buoy or an underwater sign with your love message that you both discover as you dive through the depths of the water.
The daring and unique approach is sure to be the highlight of at least a few dinner table conversations for years to come.
8.  Skydiving Proposal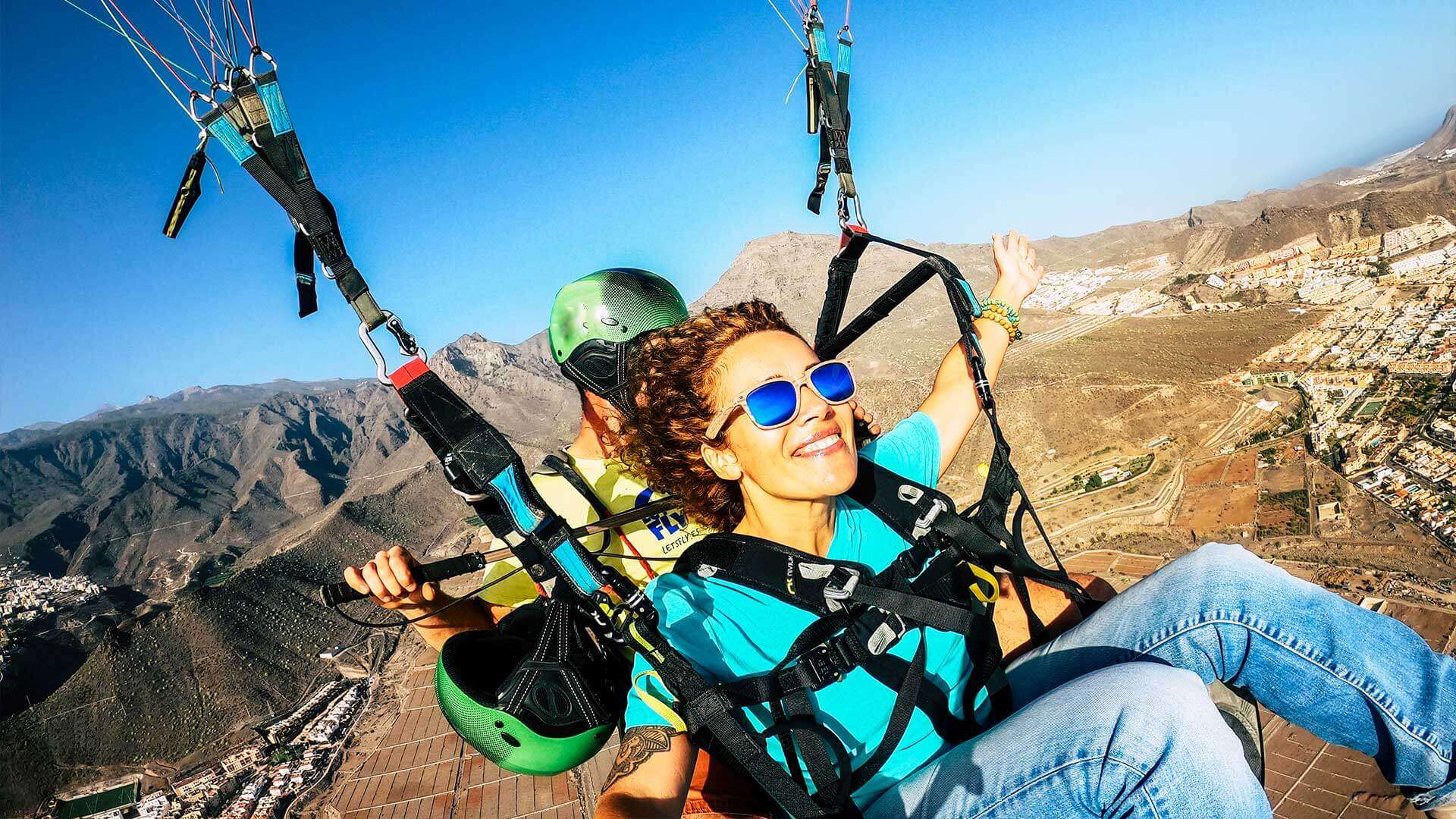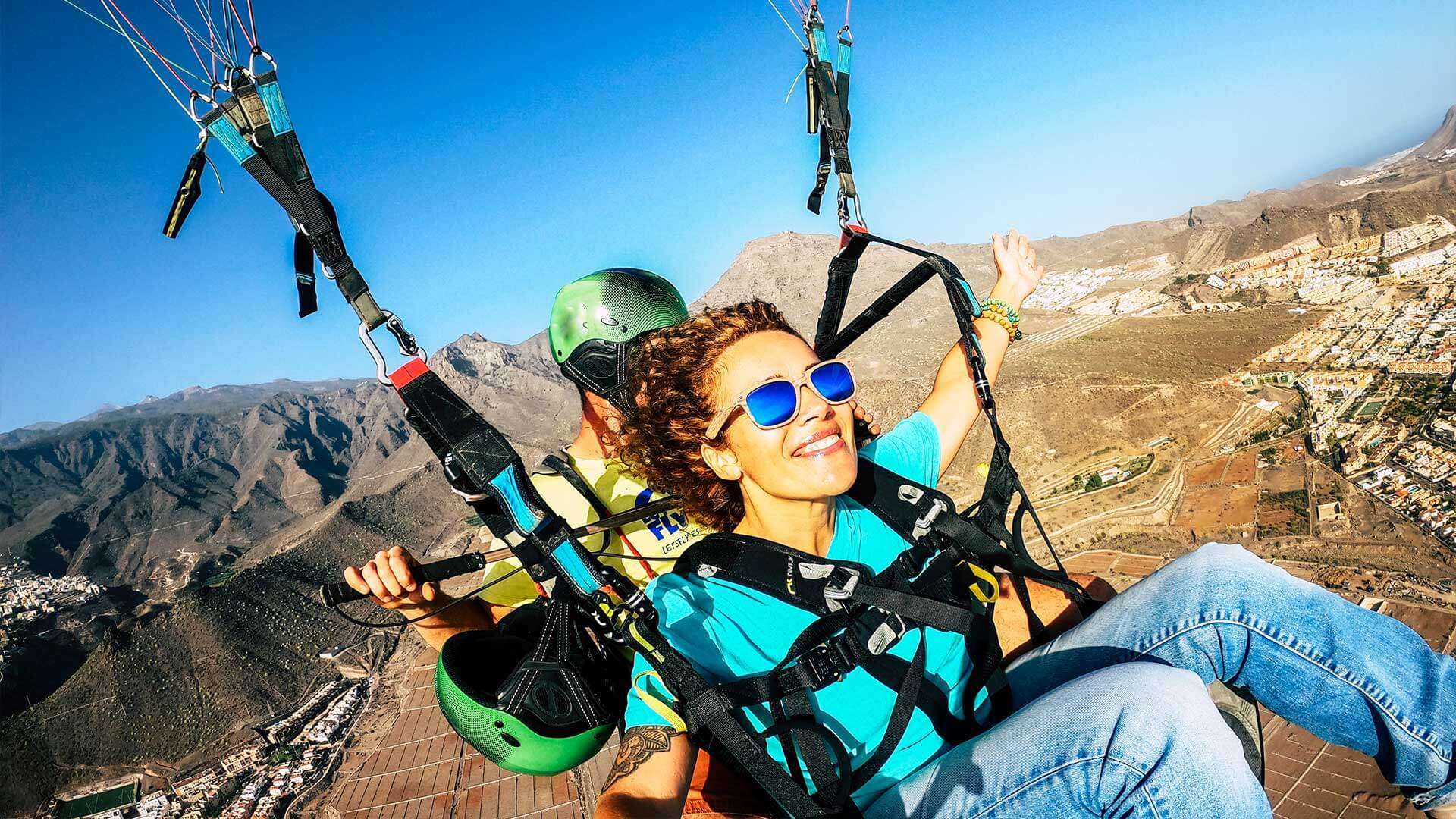 Another adrenaline-pumping proposal idea is to propose to your partner as you skydive over the Palm Jumeirah. As you both descend, the vast expanse of the Arabian Gulf will unfold beneath you, setting the scene for your life-changing question.
You can propose and present the ring while descending or if you find this too risky, get on the knee soon after you land and pop the question.
9.  Proposal Written on the Sky
Skywriting has been around for some time now. If thrilling beach marriage proposal ideas are what you're after, hiring a skywriter to write the marriage proposal in the sky will just be perfect. Imagine you and your partner sitting on the beach as the skywriter works his magic in the skies.
Not just your partner but even others at the beach will be awed by this romantic presentation. But for your partner, this extraordinary display of love is sure to create a memory she will cherish for life.
10.  Air Banner Proposal
As we're talking about some great aerial methods to propose at the beach, another excellent option is an air banner. You can hire a helicopter to fly the large banner asking your partner to marry you. As the beaches in Dubai generally have clear visibility almost throughout the year, the air banner proposal idea will work out perfectly
You can find plenty of companies in Dubai that offer helicopter rides. Choose one such rental company and carefully select the place and time of the flight to pop the question aerially.
11.  Propose with a Sand Sculpture
Decoration also plays a vital role in creating a romantic environment for the proposal. If you're looking for beach marriage proposal decoration ideas, how about decorating the proposal spot with sand sculpture?
You can hire a sand sculptor to create something unique and relatable for your partner at any of the pristine sand beaches of Dubai, like Jumeirah Beach, Al-Sufouh Beach, or Sunset Beach. Approach the artwork as you stroll along the shoreline for a surprising and intricate proposal.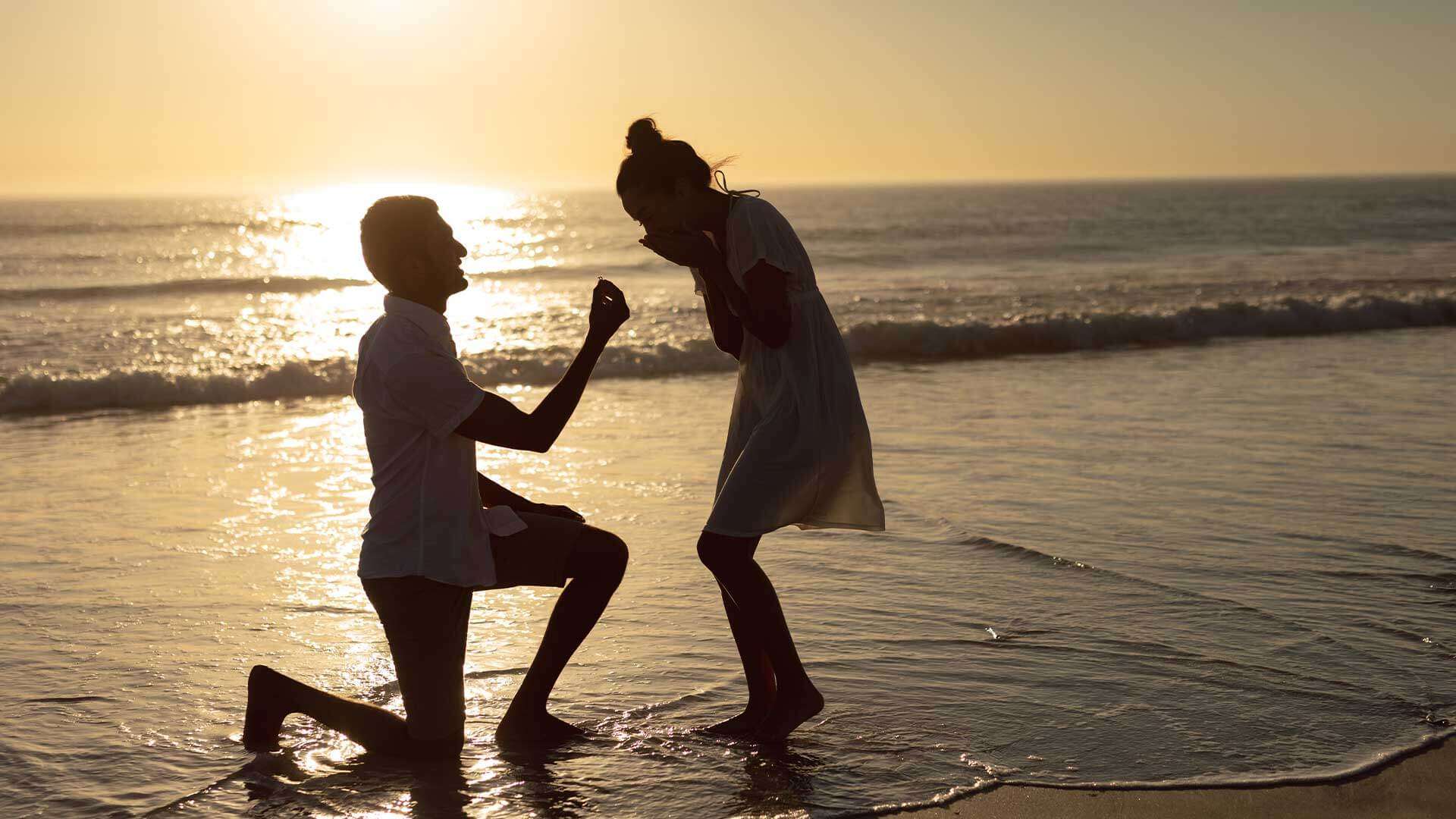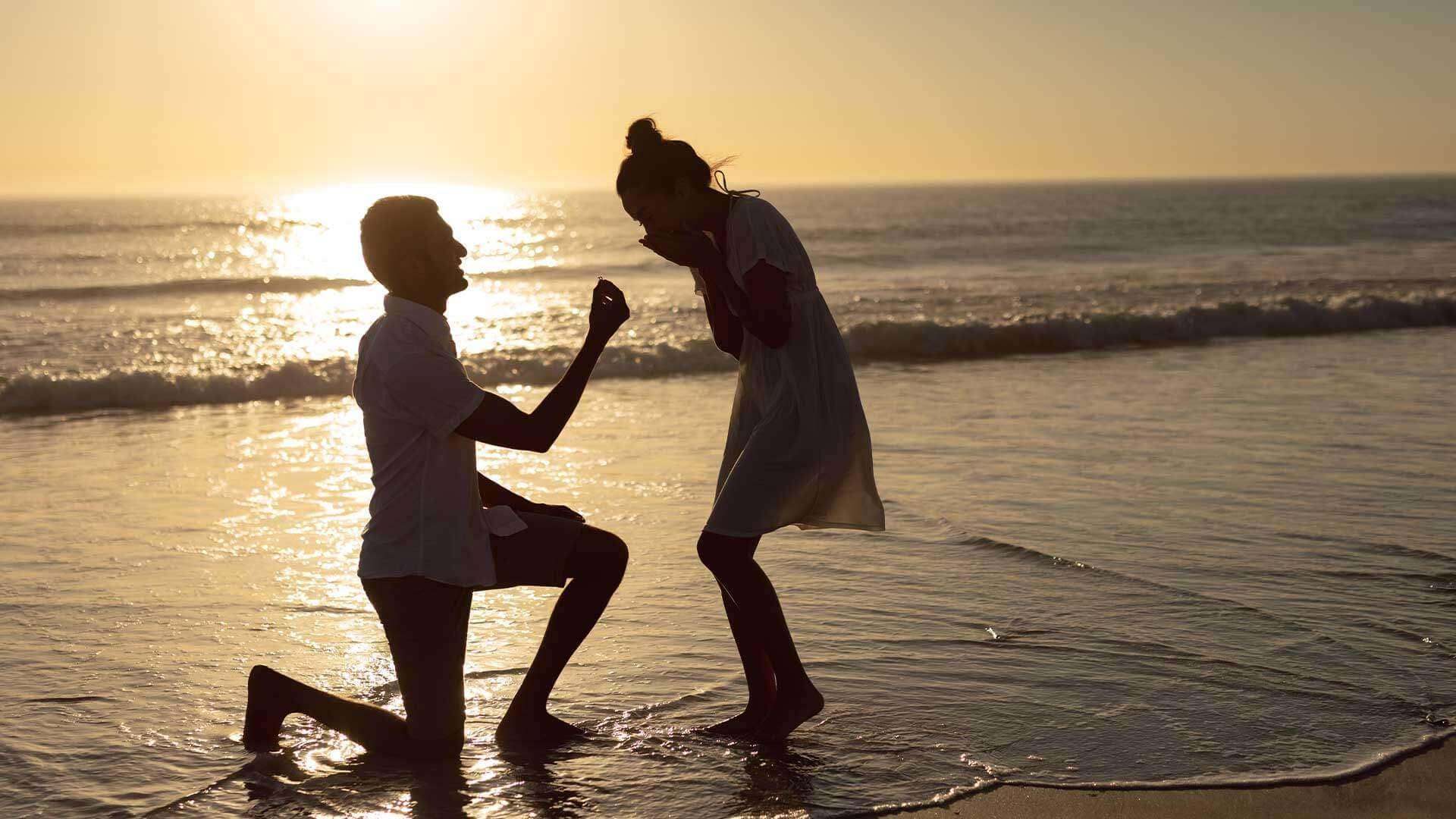 12.  Treasure Chest Proposal
If you and your partner love off-beat ideas, a treasure chest proposal on the beach is a surefire winner. For this, you'll put the engagement ring in a small treasure chest and bury it in the sand with one end slightly sticking out of the ground. You can have your friend or even the hotel staff do the needful for you.
As you casually stroll at the beach, walk towards the treasure chest and let your partner spot it. As she will dig and open the chest, she'll be filled with amazement at finding the engagement ring in it.
13.  Beachfront Dinner Proposal
You can never be wrong with the classy dinner proposal. But rather than a fancy Dubai restaurant, have a pristine beach at the backdrop as you pop the question. Many hotels with private beaches have beachfront restaurants and you can work with the staff to make all the arrangements.
Amid an evening of culinary delights, look for that perfect moment to ask for her hand in marriage. You can also consider hiring musicians or popping a bottle of champagne to take things to the next level.
14.  Beach Cinema Proposal
Is watching movies one of the favorite activities you enjoy as a couple? Why not use your love for the cinema for a dramatic beach proposal? Set up an outdoor cinema at the beach with cozy blankets and your partner's favorite movie in tow. As the story unfolds on the screen, let your proposal take center stage, leading to an unexpected and enchanting ending.
You can hire a villa with a private beach in Dubai to ensure this marriage proposal idea works like a charm.
15.  Propose at a Private Cabana
Renting out private cabanas is one of the best ways to enjoy the pristine beaches of Dubai. If you're looking for night beach proposal ideas, proposing to your partner at one such private beach cabana could be extremely romantic and unique.
The soft glow of the candlelight, the waves crashing at the shore, and the sparkle of stars will create an intimate ambiance perfect for your marriage proposal.
16.  Beachside Photo Shoot Proposal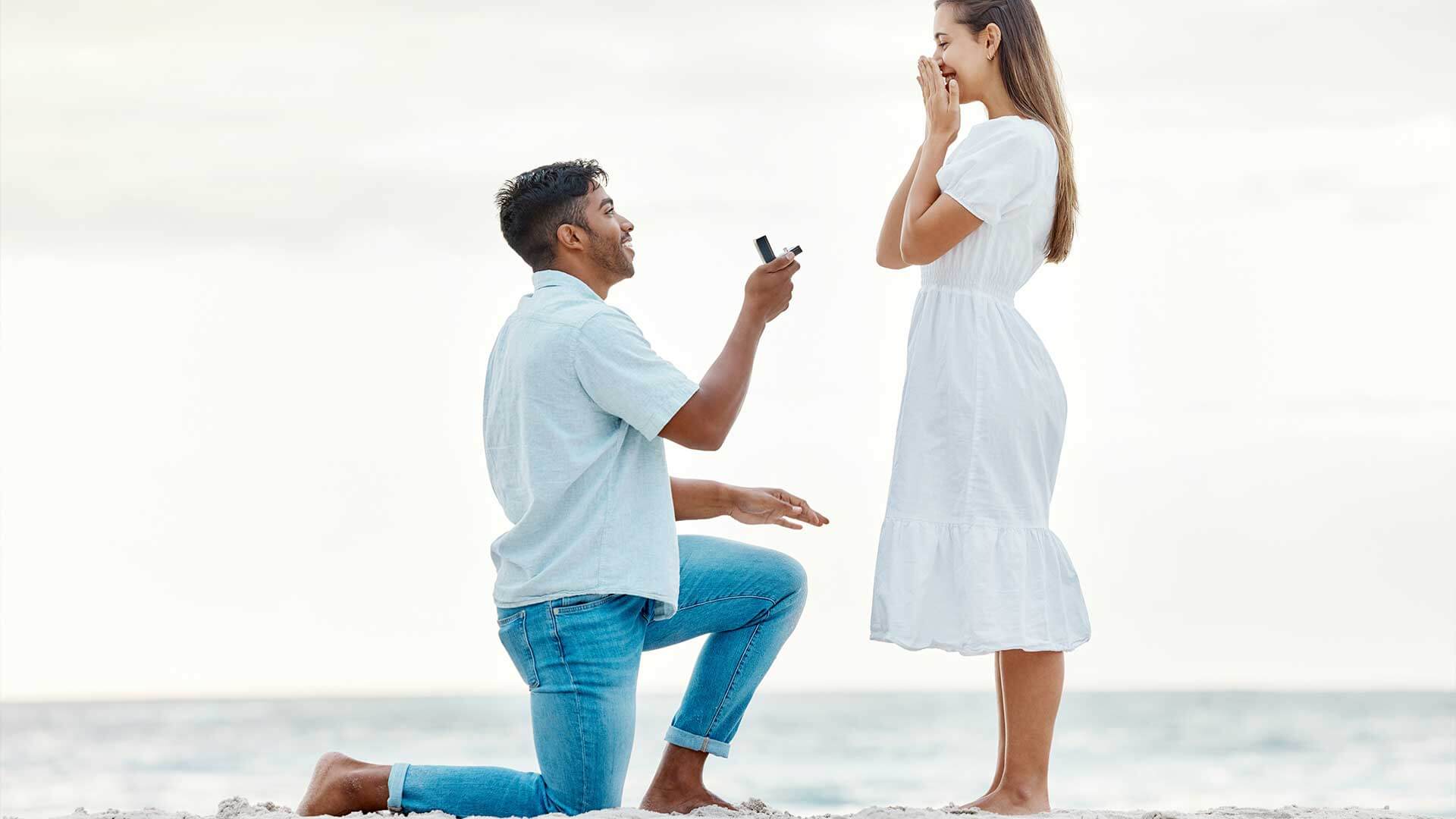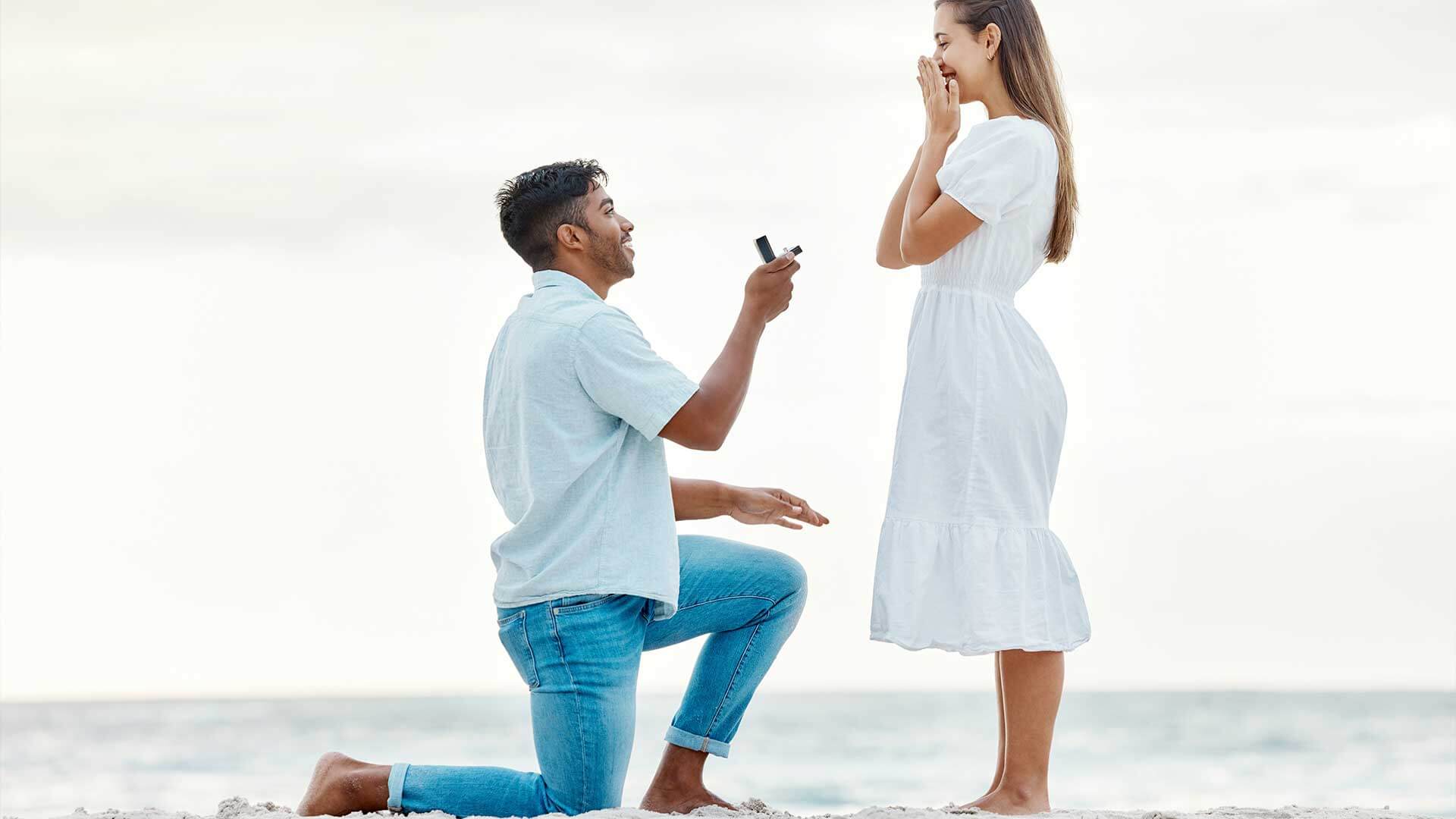 Does your partner love social networking platforms? How about inviting her for a fun beachside photo shoot? Amidst laughter and candid moments, you take the opportunity to propose, with genuine emotion captured forever in photographs.
Not to forget your partner will also have loads of Insta-worthy pictures to let the world know about the proposal.
17.  Sunrise Proposal
Dawn of a new day looks charismatic from beaches in Dubai. Why not use this beautiful moment to propose to your partner, especially if she's an early bird? Simply ask her to accompany you for a beach walk early in the morning and pop the question as you both watch the new day begin.
You can also consider hiring a photographer who'd stay close to you but hidden so that he can capture some amazing pictures.
18.  Lighthouse Proposal
The Lighthouse at the Dubai Creek Harbor is a popular tourist spot. Located at the mouth of the creek, the lighthouse can be the place if you're looking for night beach proposal ideas.
The lighthouse is illuminated in the evening and it makes for a super romantic location to let your partner know you'd like to marry her.
19.  Beachside Musician Proposal
If you and your partner are audiophiles, a beachside musician proposal is the way to go. Hire a talented musician, like a violinist or guitarist, to serenade you and your partner as you spend some quality time at one of the many beaches in Dubai.
When the time is right, have the musician transition into your partner's favorite love song and pop the question.
20.  Floating Lantern proposal
If you're looking for unexacting yet romantic beach marriage proposal ideas, a floating lantern proposal is a great option. Release a series of floating lanterns into the night sky, each carrying a heartfelt message.
As the lanterns rise, your partner will surely be captivated by the beauty of the moment and the promise of your love.
21.  Beachfront Dance Proposal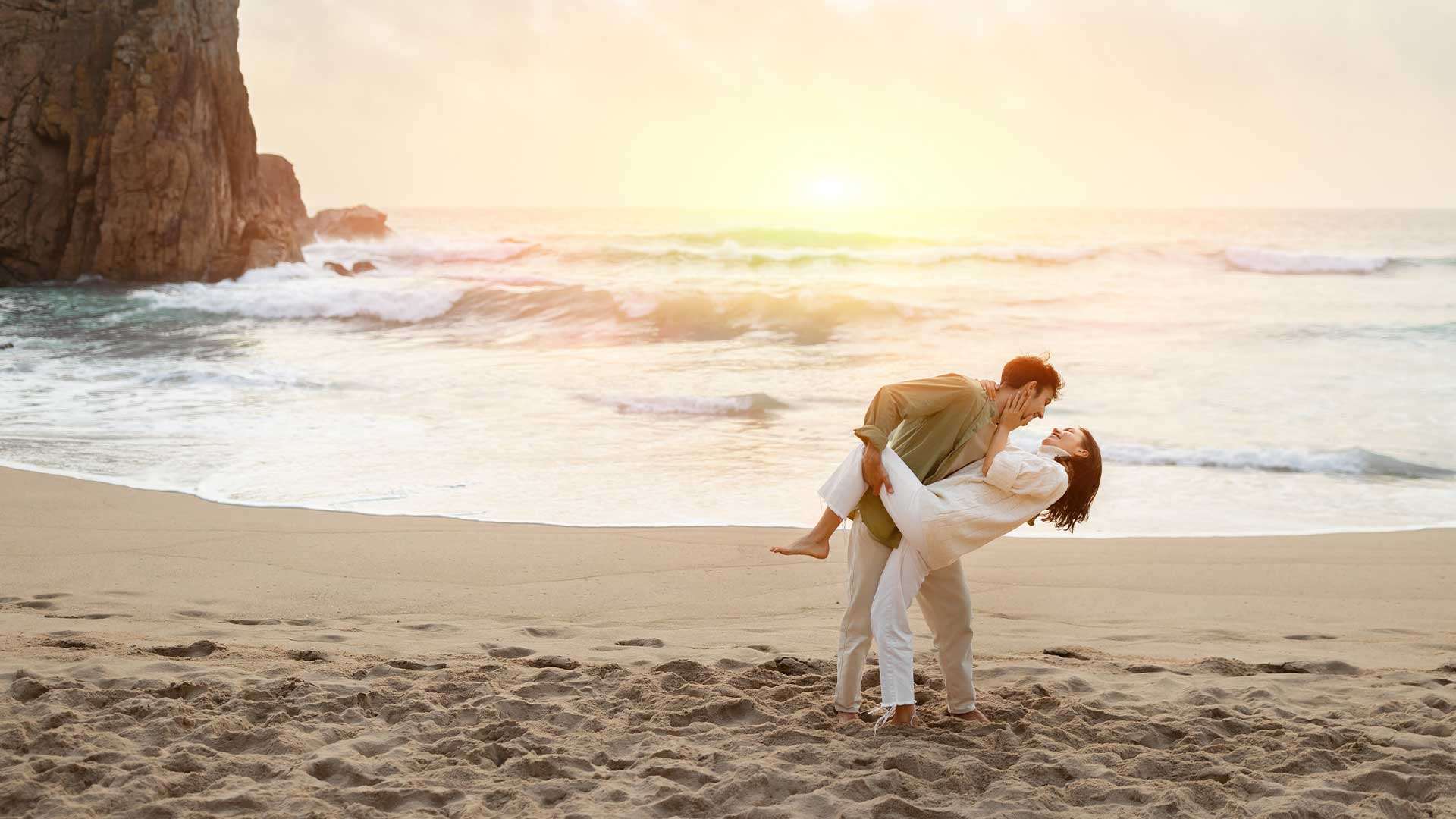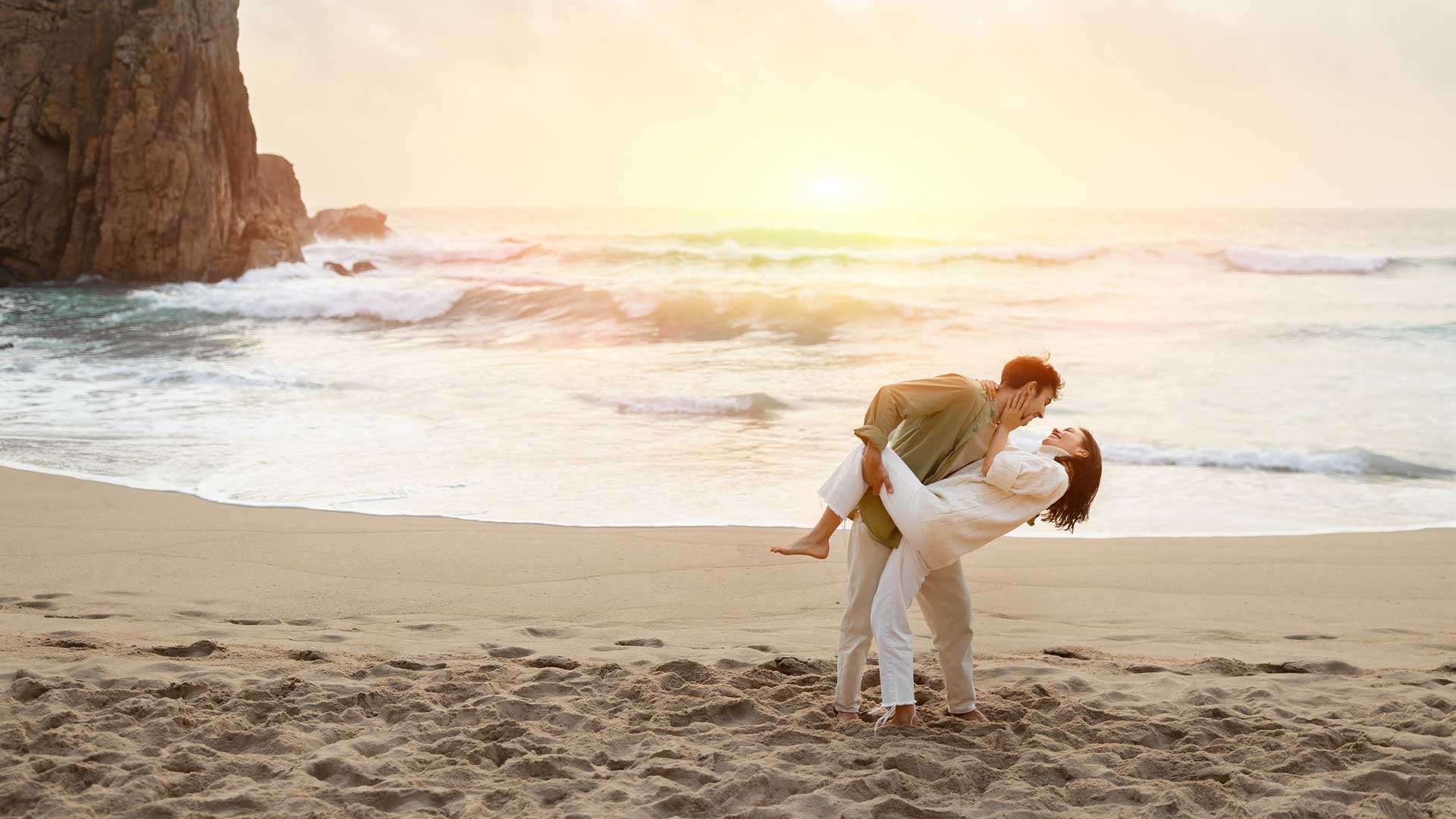 Take dance lessons along with your partner in preparation for the proposal. On a moonlit evening by the beach, surprise your partner by leading them in a beautifully choreographed dance sequence before asking for her hand in marriage.
Ensure you arrange everything, including decoration, music, photographer, etc., to turn it into a memory you'll cherish forever.
22.  Dhow Cruise Proposal
Book the traditional dhow vessel entirely for you and your partner for the perfect setting to propose for marriage. As the dhow cruises through the tranquil water of Dubai marina, look for the perfect opportunity to express your love.
You can work with the cruise service provider to decorate the dhow and finalize a route with the most beautiful views of the city.
23.  Star Gazing proposal
The transition months in Dubai, like April to May and September to October, have the clearest skies. If you're searching for beach surprise marriage proposal ideas, these clear skies can help. Just lay out a comfortable blanket on the beach and spend the evening stargazing.
As you admire the constellations, reveal the ring and your intention to be partners for life.
24.  Beachside Meditation Proposal
Meditating at the beach early in the morning offers next-level calm and joy. If you and your partner love meditating, begin your day with a meditation session at the beach.
As you guide your partner through a calming meditation, infuse the session with words of love and your proposal.
The Dubai Beach Proposal Guide
Now that you have loads of marry me beach proposal ideas, here's a quick guide with some of the most important things you should watch out for-
Crowds and Privacy
Public beaches in Dubai can get very busy, especially around peak hours. To ensure an intimate moment, opt for a quieter time of the day, such as sunset or early morning. Alternatively, you can book a room at any of the hotels that have a private beach. The hotel staff can also help you with the arrangements.
Weather Conditions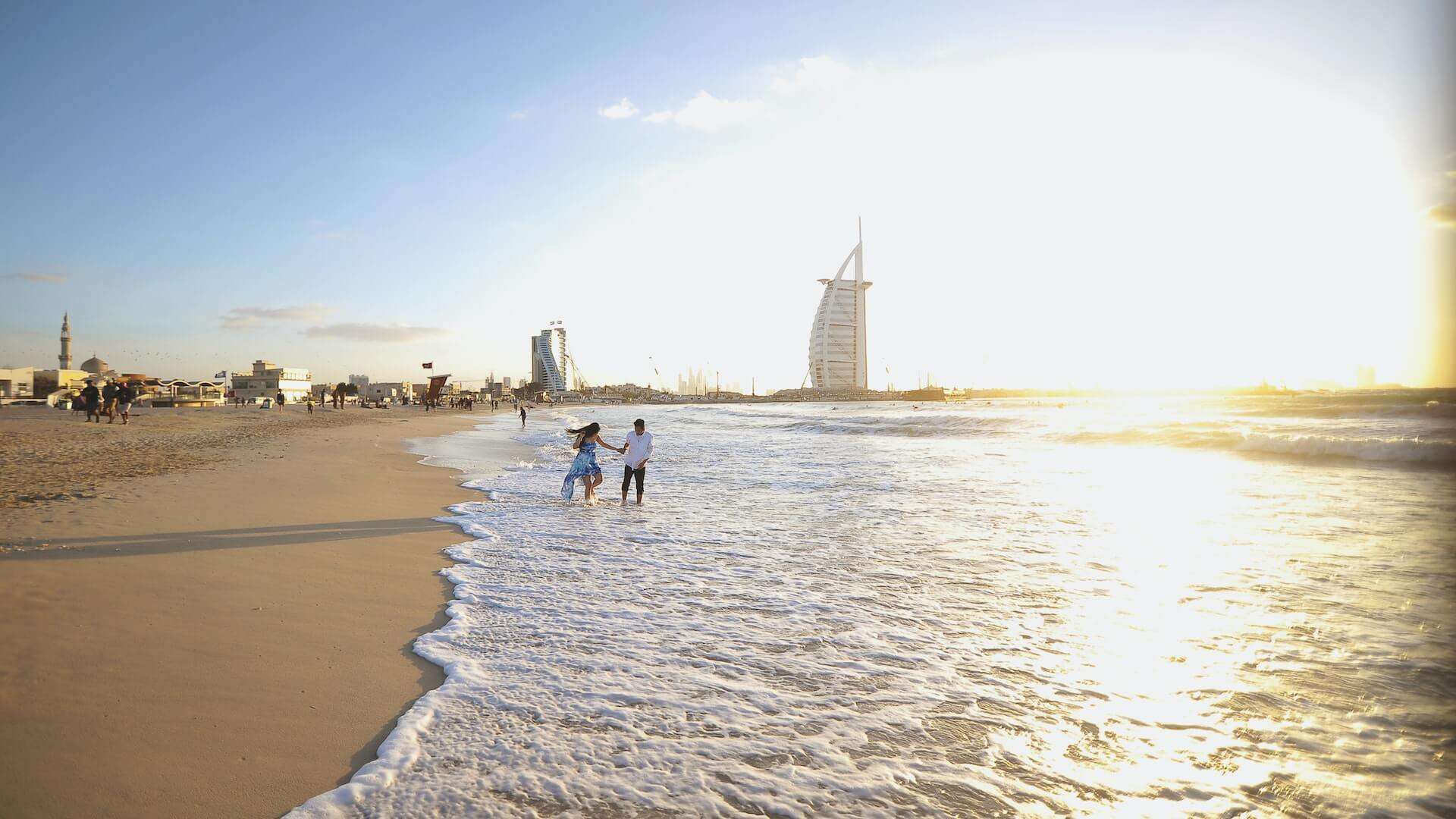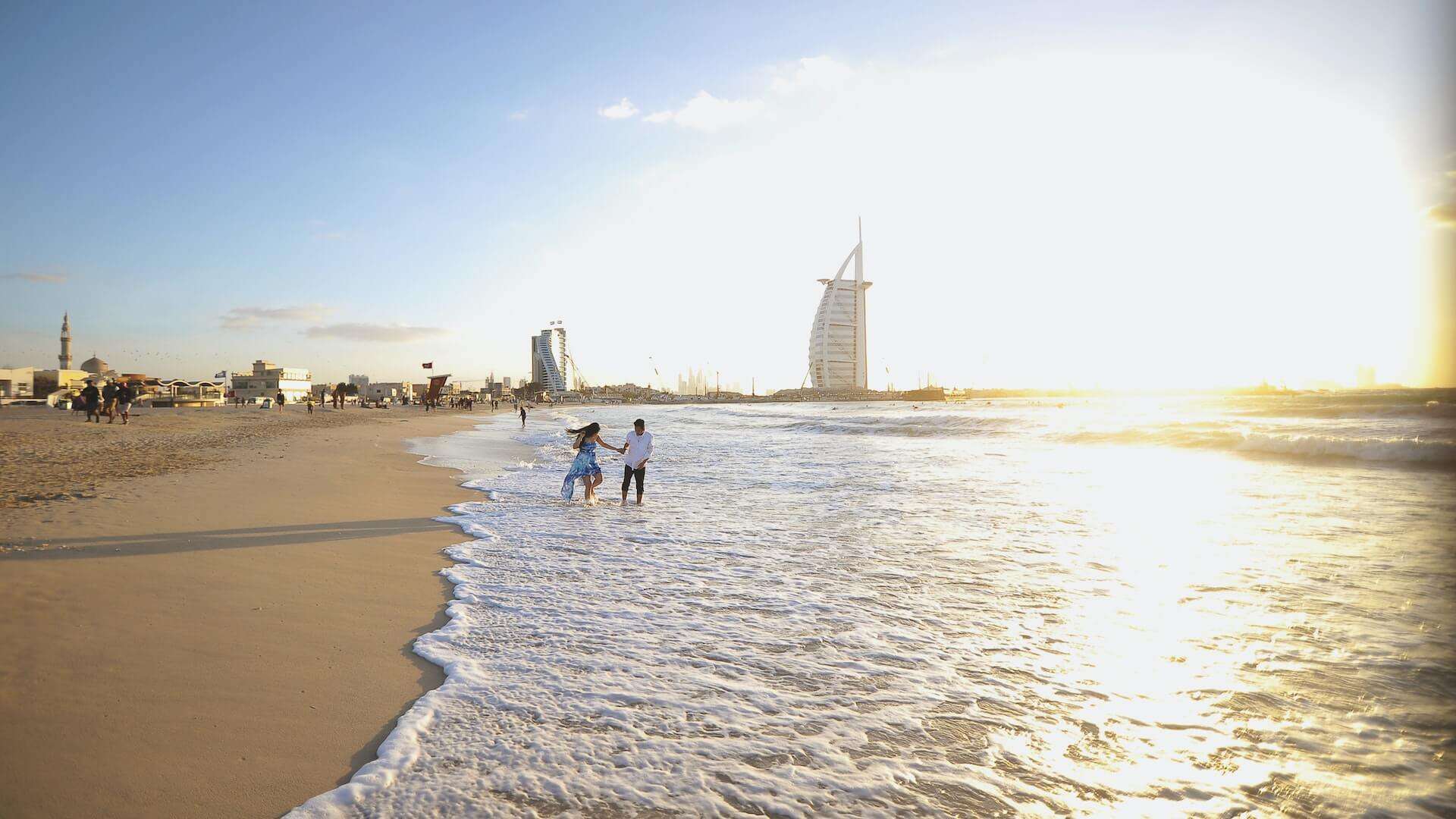 The summer months in Dubai are very hot with temperatures ranging from 40°C to 45°C. So, ensure you check the weather forecast before planning the proposal and consider the comfort of both you and your partner. Choose a time of the day when the temperature is milder and the weather is pleasant.
Permits and Regulations
Before planning the beach proposal in Dubai, research any required permits or regulations. Dubai is a conservative city and you should always maintain decency in public places. Moreover, some of the beaches can also have restrictions on decorations, activities, and gatherings. It's essential to adhere to these rules to avoid any disruptions.
Safety Precautions
When you're proposing at a beach, safety should always be a priority. Be mindful of currents, tides, and other potential hazards when choosing the location for your proposal. Keep your partner's safety in mind and choose a spot that's both secure and beautiful.
Lighting and Photography
Be mindful of the lighting conditions when planning the proposal. While Dubai sunsets offer a magical backdrop for a proposal, you should ensure there is enough light to capture the moment on camera. Consider hiring a professional photographer or ask a friend who's skilled in photography to capture the memory forever.
Ring Safety
The beach is not the best environment for carrying valuable items like engagement rings. So, take necessary precautions, especially with beach marriage proposal ideas like the message in a bottle and beach treasure hunt. Also, use a ring box that can securely hold the ring in place to prevent it from being lost as you work your way toward finding that perfect moment.
Environment Impact and Cleanup
Always show respect for the environment by cleaning up after your celebration. Ensure that decorations, signs, and other items you've brought with you for the proposal are properly disposed of. Leave the beach as beautiful as you found it to preserve its natural beauty.
Ready for Your Beach Proposal in Dubai?
Now that you have plenty of beach marriage proposal ideas and know the things you should watch out for, start working on your proposal to create a unique and unforgettable memory.
Whether you choose a romantic yacht proposal, an adventurous underwater proposal, or a calming meditation session, the beauty and elegance of the city will lend themselves to crafting a proposal that speaks to your relationship's individuality. So, what are you waiting for? Plan that perfect marriage proposal to serenade your partner.
FAQs
1.  Is proposing at the beach a good idea?
Proposing on a beach in Dubai is definitely a wonderful and romantic idea. However, you should consider the personal preferences of your partner to make a decision. If your partner is fond of nature, romantic settings, and the outdoors, a beach proposal can be a great fit.
2.  How do you ask a girl to marry you on the beach?
You can use any of the amazing beach marriage proposal ideas listed in this post to ask a girl to marry you on the beach. Understand your partner's preferences, weather conditions, local regulations, etc., to ensure the proposal works out just as expected.
3.  What time is the best to get married on the beach?
If you don't just want to propose but get married on the beach, it'd be best to look for a reputed event planner in Dubai and check the beach marriage packages they offer. As for the best time, avoid the summer months as they can be very hot and humid even in the evening. So plan a beach marriage in Dubai between November and March.
4.  Can I propose on the beach in Dubai?
Yes, you can propose on a beach in Dubai, given that you're well aware of the local regulations. Depending on the type of proposal you have in mind, you might also need a permit from the local authorities. You can consider renting a room at any of the hotels with a private beach so that you can work with the staff to make the necessary arrangements.
5.  When should you not propose?
The summer months in Dubai, especially between June and August, might not be the best choice to propose at a beach in Dubai. With temperatures of up to 45°C during the day, a sweaty and uncomfortable proposal is not something you and your partner would want. Also, take adequate safety precautions when proposing at the beach.