19 Exciting Wedding Transportation Ideas in Dubai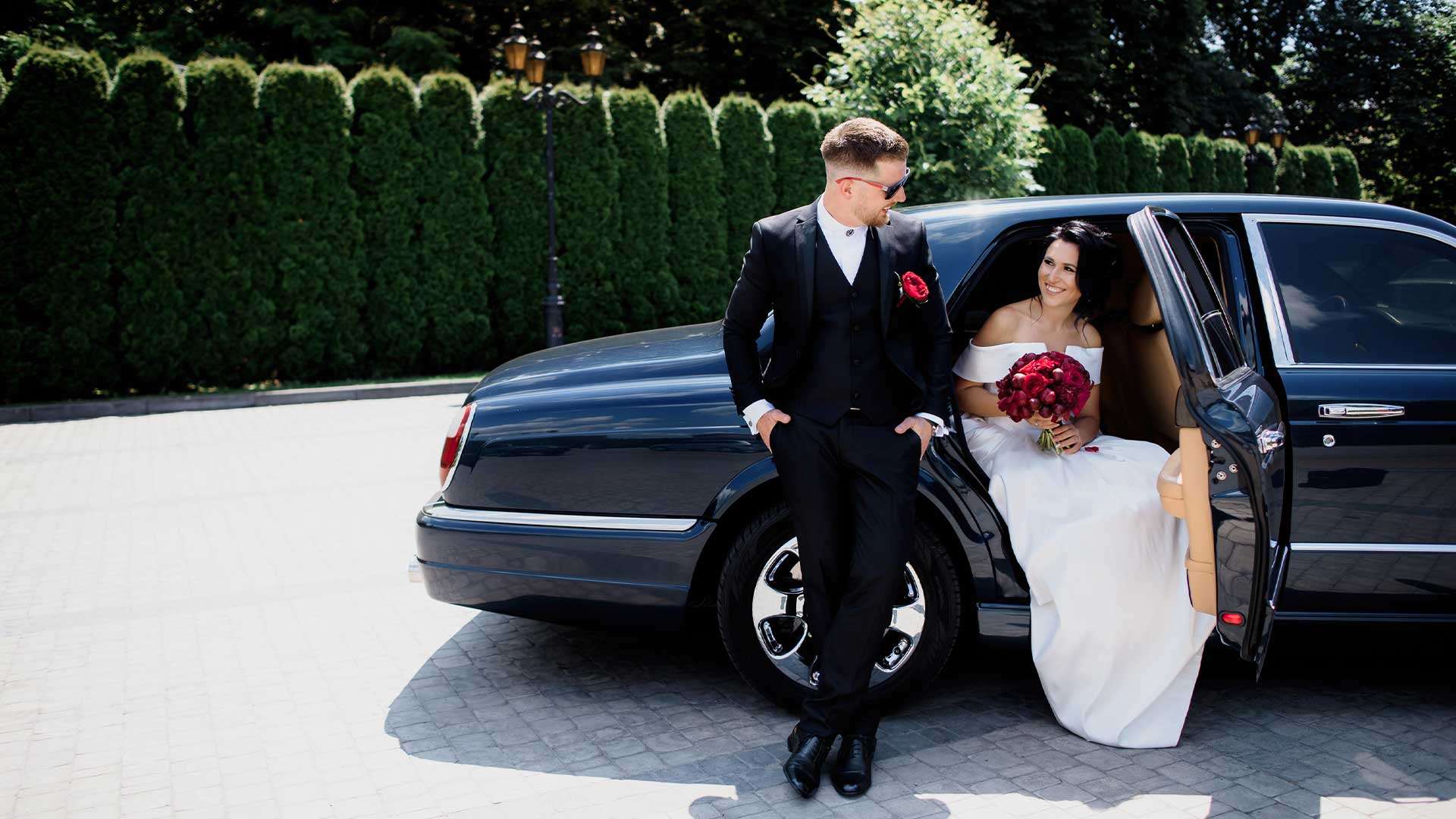 When it comes to wedding transportation ideas in Dubai, do you picture having your guests park for you, arriving in a limo, or having the traditional "Just Married" send-off vehicle?
Wedding transportation is sometimes disregarded or put off until the last minute, but with a little forethought, you can use it to give your Big Day a special flair.
This article will cover some of the most exciting wedding transportation ideas that will make your wedding in Dubai mind-blowing.
19 Exciting Wedding Transportation Ideas in Dubai
As you ponder over different wedding transportation methods, choosing the right one can often be a daunting task. We have put together a list of some transportation ideas that will suit your ideal wedding accordingly.
We will first begin our list with our favorite two-person wedding transportation suggestions, and then navigate our list down to the cheapest way to transport wedding guests.
Two-person wedding transportation suggestions
1. Elegant vintage car
Roll up to your wedding like a king in a luxurious antique car rather than just any ordinary car. When you depart or arrive in an antique Rolls-Royce, you'll astound your wedding guests.
2. Golf caddy
Use golf carts for wedding transportation if you or your spouse are avid golfers or are having a wedding reception that is far from the ceremony site. Some venues are big, thus holding events at various venues could require an uncomfortable distance for some of the guests to walk. Golf carts also make it simple to move around fast and comfortably.
3.  Horse & carriage
If you are a romantic person, you may have thought about riding in a horse-drawn carriage to your wedding. As you step into the ceremony, people will undoubtedly take notice of your flashy mode of transportation. You can fulfill your childhood desires while using this form of transportation, and you'll also get some unique wedding photos.
4.  Segway
Using a Segway to get to your wedding is a unique and exciting way to go that your guests won't expect. The guys will adore it and it will make people smile.
5.  Hot air balloon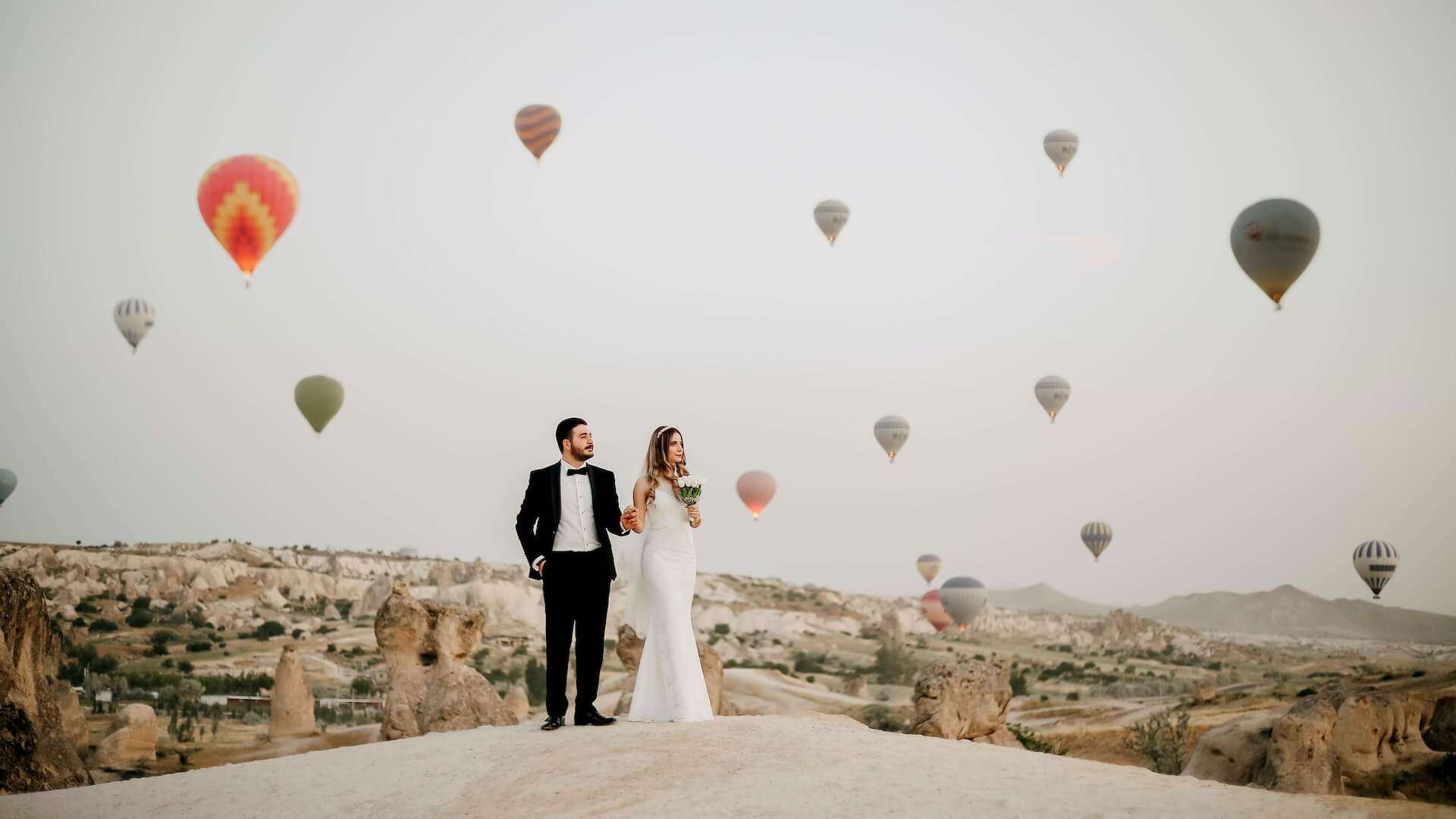 Consider leaving the ceremony in a hot air balloon if you want to disconnect for a while. As you commemorate your new marriage, soar above your community. If you arrive at the location of your reception, you'll also make a grand entry.
6.  Floating boat ride
Is there a lake close to your venue? Before the reception, take a romantic boat ride together. Before introducing yourselves to guests and starting the dance, you'll both take a minute to relax in nature. This can be the most amazing wedding transportation for bride and groom.
7.  Sunset scooter
Before your wedding celebration, go for a brief scooter ride together. Even better if you can schedule it for just before sunset. Just be cautious when driving fast (except if your wedding hairstyle can handle it).
8.  Taxi
There are many taxi companies out there that specialize in white wedding cars, and they'll even design them for you. A taxi is a terrific way to get to your wedding.
9.  Luxury automobile
Why not show up in a luxurious supercar if glitter is your thing or if you intend to amaze the groom with an entrance that will fulfill all his childhood fantasies? It will attract attention and cause all the boys to develop romantic feelings for you.
10.  Sleigh
Do you want to get married at a ski lodge or winter wedding location covered in recent snowfall? Replace the traditional carriage with an attractive, ornamental wooden sleigh to give the horse & carriage combo a festive twist.
11.  Limo
What could be more elegant than making that grand arrival in a limousine? You'll get to have a few good drinks on your way there, unwind in comfort, ease any last-minute anxiety, and all while appearing like a total rock star.
12.  Helicopter
If money is not a concern, there is nothing more stunning than entering your wedding site by helicopter. It is one of the most outstanding wedding transportation ideas. Just be cautious to protect your hairstyle completely. You could need a great deal of hairspray, take note.
13.  Strange wedding car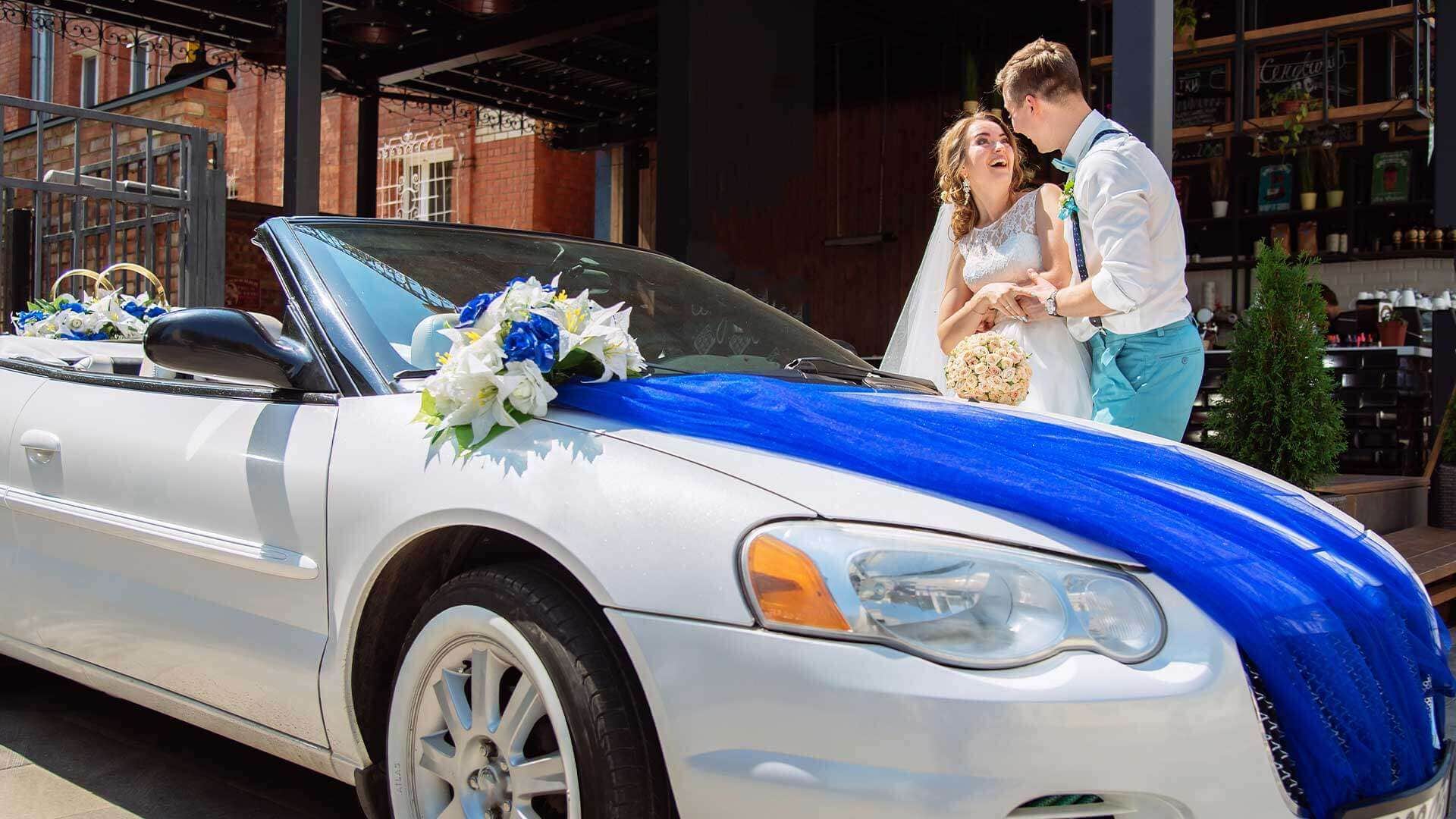 There are some incredible wedding vehicles out there, including stretch minis, vintage Fiat 500s, and flower-adorned automobiles. You could either take an enjoyable road trip to your wedding or hire a chauffeur.
After wedding transportation for two, let's look at wedding transportation for a group.
Group wedding transportation suggestions
Are there many out-of-town visitors coming to your wedding? Are you seeking fantastic wedding party transportation ideas? If so, consider using one of these inventive group travel options for your wedding.
14.  Shuttle service
Even though it isn't the list's most inventive wedding transportation concept, it might be the most reliable one. Hiring a shuttle to host your wedding guests will help to take the uncertainty out of guest transportation. Many hotels provide shuttle services to and from neighborhood venues, or couples can search online for "wedding party transportation near me" that operates in the region.
15.  VW bus
Use a vintage VW (Volkswagen) bus as your wedding transportation if your motif is the '70s" or you enjoy the nostalgia. You can reserve a vintage bus that seats up to 12 people or the most recent electric microbus from Volkswagen, which seats up to 8.
16.  Two-decker bus
Double-decker buses are ideal for large events with guest transportation demands because they can hold 60–120 passengers at a time. Many major cities, including Los Angeles, San Diego, New York, Pittsburgh, Richmond, and many others, offer double-decker bus rentals. As they commute back and forth your event while taking in the sights, give your guests an experience they will never forget.
17.  Trolley
Previously, San Franciscans and many other city residents were the only ones allowed to ride the trolley. However, many contemporary travel and ride businesses now provide trolley transit because of cable car modernization. Trolleys are a smart choice for transporting your wedding event or the complete list of invitees for a small, private wedding because they can typically hold 20 to 35, or 50 people for larger trolleys.
18.  Hayride
Take a vintage country hayride to your lovely wedding ceremony with the bridal party. Your visitors will smile as they witness your authentic farm-style arrival when you attach a wagon to a vehicle or a tractor.
19.  Party van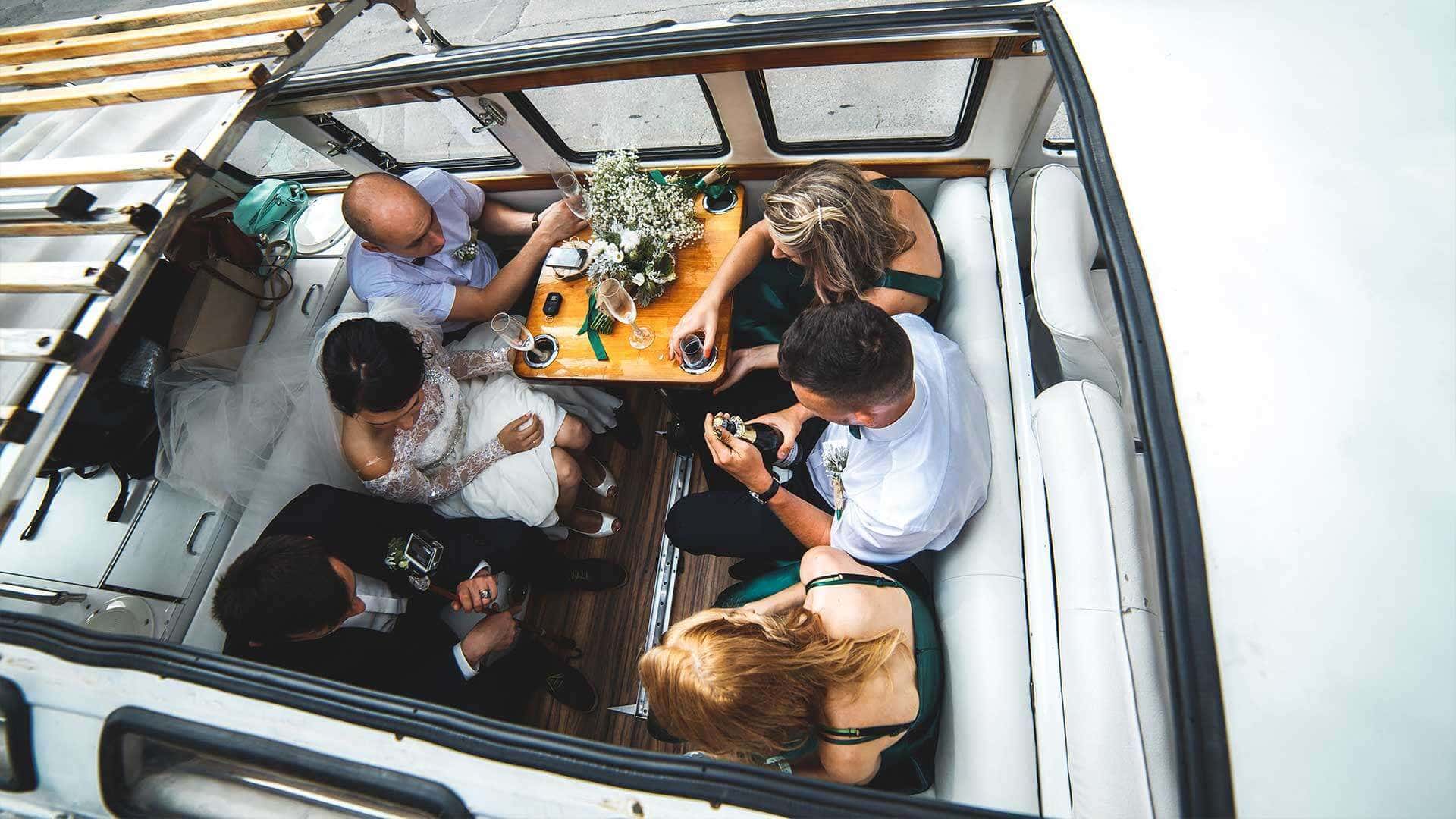 Traveling in a party bus guarantees that the wedding festivities never end, making it the ideal wedding transportation choice for couples who value a terrific party and an amazing entrance. Although this means of wedding transportation can take your wedding guests to a new level of pleasure, it is only advised for groups that are responsible.
What To Consider When Booking Your Choice of Wedding Car?
When you are done going through our list of wedding transportation ideas, it is time to start the booking process. We've provided a list of useful ideas to guide you plan and reserve your choice pf wedding car.
Ask Questions
Make sure everything is clear from the beginning. Ask about mileage, gas, tips, etc. Frequently, these are covered within the quote, but make sure to inquire to avoid any unpleasant surprises after the nuptials.
Get quotes promptly
Couples are frequently taken aback by the cost of transportation. Get a quote as soon as possible so that you can include this cost in your budget. You may start budgeting for your wedding transportation as soon as you know how much it will cost.
If the location changes
Couples should prepare to offer a wedding commute for guests if the reception will be held at a different site and the distance between the two venues is greater than 10-15 minutes. The number of guests may decline between wedding festivities if there is a big gap in time between them or if they are far apart geographically.
Consider wedding guests who are traveling
In most cases, destination weddings need the provision of guest transportation, unless the ceremony and reception locations are close to the hotel, or the hotel is offering a shuttle service to the location. Transportation demand is frequently high in high-demand locations, while supply may be constrained. Seek advice from the venue's planning staff and reserve your wedding transportation well in advance.
Keep the wedding party in mind
On the wedding day, newlyweds often have a lot on their plates, so managing the wedding party should not be one of those things. Before the wedding, they need to be unwinding, not tracking the other guests. The wedding day can go more easily if the wedding party stays together as you move from activity to activity.
Use your negotiating skills
It's not always necessary to accept the first deal or price you are given. It could be worthwhile to discuss cost-saving options with the venue or your hotel's manager. Many lodging providers will offer incentives like shuttles depending on the number of booked rooms. Utilize your excellent negotiating abilities to give your customers a stress-free day.
Purchase wedding insurance
Make sure your insurance will cover any expenses you make for a need, such as transportation for your wedding. If your chosen firm runs into any problems.
Conclusion
Anytime you try to put together some wedding transportation ideas to find your unique wedding transportation, a lot may come to mind. You could easily get caught up in the heat due to a stream of ideas. Our list encompasses more than you can ever need to make the best choice of wedding transportation.
Frequently Asked Questions
How does the bride get to the wedding?
One or both of the bride's parents may accompany her, or as an alternative, the bride can decide to meet the parents halfway rather than request an escort.
Who enters first in a wedding?
The groom, the groomsmen, the best man and the officiant, are the first to enter a wedding. They usually do so from the side of the ceremony site. However, depending on the choice, they may occasionally, go up the aisle. The bride's mother, the groom's parents, and their grandparents come behind them. The bridesmaids, Flower Girl and Maid of Honor finally make their entrance.
Who does the bride stay with the night before the wedding?
The bride staying the night with the wedding party is a secondary custom. The purpose of the bridesmaids has traditionally been to ease the bride's burdens and wish her luck.
Who drives the bride to the ceremony?
The bride shares the same car with her father or the close one who will give her away. On the other hand second vehicle is used by the bridesmaids and the bride's mother most of the time.
How does the bride and groom get home?
From the party to their home, the happy couple typically rely on a cab, friends, or family. The groom can also drive his bride back home. But you must be careful should you provide transportation for wedding closure. Because you don't want to bring a mix of comedy and tragedy into your special day.